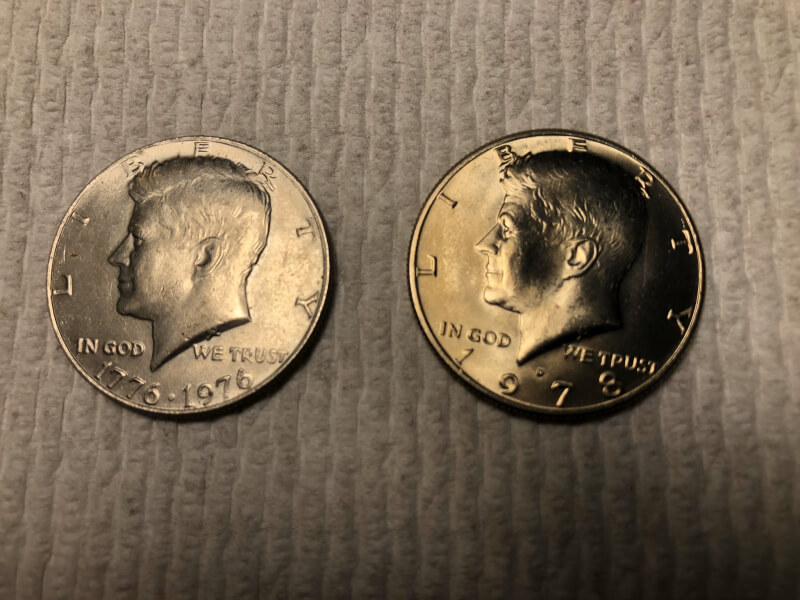 It was a GREAT week for grading Kennedy half dollars! I decided to grade a bicentennial and a 1978-D.  The bicentennial was from my step Dad's collection and the 1978-D is a recent purchase from GoldenEagle Coins. Upon reflecting on this weeks choices for grading, it was ironic that I chose these coins. They are all linked in time with the pictures I took. Let me explain before I discuss the grades I assigned these coins. In Sept. 1976 I had just finished a 39 month tour of duty in Bamberg, Germany and was headed to Ft. Stewart, Ga. for a short tour with the 24th Infantry, B Btry. 1/13 FA. A couple of years later in 1978 I proposed to my best friend, my wife. On April 21, 1979 we were married. 10 years ago today my step Dad passed away. On this coming Tue. I will have been married to my best friend for 41 years. Did I mention that time flies when you're having fun?
     The bicentennial, 1776-1976 Kennedy half dollar that my step Dad left me is in good shape. You could tell that he h%ad taken good care of it even though he hadn't stored it "properly". It still has over 50% of it's original luster. The field on the obverse has a few minor striations but besides those is blemish free. The reverse is in even better shape with at least 75% of it's luster. All of the devices on the reverse are sharp and clear even looking at it through a magnifying glass. The edge has one very small nick that is only detectable via magnification. My step Dad loved collecting bicentennial coins but mostly Kennedys and quarters. He did have one Eisenhower dollar that was in his collection. This coin reflects my step dad's character and morals which he passed on to me. He's the reason I selected the Army over the other branches of service due to his being a WWII Army veteran who served in France during the Battle of the Bulge. I'm proud that it's now in my collection. I graded it at a EF-45.
     The 1978-D Kennedy half is a different story. I bought it as BU for a good price. Did I mention that I have more time than I do money? I had departed the Army in March of 1978 and had met my brother-in-law while at Ft. Stewart, Georgia. He was from Baldwinsville, N.Y. and I had loaned him $500 for a new transmission for his Ford F-150. When I got out of the military, he took a 30 day leave and we drove to N.Y. and he repaid me. I met his two sisters while visiting there. I had never been to New York before and it was a long drive from Georgia. After his 30 day leave was finished, we drove back to Georgia and I took a "Midnight Train" from Savannnah to Miami where I spent the next couple of months. 30 minutes of phone time from Homestead to Baldwinsville runs about 1 roll of quarters ! Just think of how many quarters I could have collected during those 2 months ! It had been a while since I had to support anyone besides myself. I moved to Roanoke, Va. and began working as a File Clerk at the Veterans Administration in Roanoke, Va., after I left Homestead, Florida. I advised Mr. Armstrong, the Director of the VA that I was going to re-enter the military. He advised me to enter a MOS (military occupational specialty) that involved typing. This all occurred during 1978. The 1978-D that I purchased is a nice looking coin to the naked eye. In consulting A Guide Book of Franklin & Kennedy Half Dollars and the ANA Grading Standards books the past couple of days, I graded the 1978-D as MS-62.  The obverse, under magnification has some blemishes around the neck. See page 161 of the Guide Book and page 261 of the ANA Grading book. The reverse revealed some small pitting under a magnifying glass near the R in the word dollar. This coin has nice luster, but I just don't think it would grade as a MS-63 by a TPGS.
     In closing, I have a couple of observations. Number 1 is that I've been "lightly researching" 2012 Limited Edition Silver Proof sets and regular 2012 Silver Proof sets. I saw the Limited Edition set at APMEX for $279.99 and Littleton Coin has a 14 coin 2012 Silver Proof set that I would LOVE to own at the LOW LOW price of $365.00. Ha Ha ! Number 2 is I wonder how many Fiats Mokester has left since at these prices, I'm NOT giving up my first born and I would have to "float" a small loan!   :-))  Who knows which 2 Kennedy half dollars I will be grading next time? I'm also considering starting a new collection on this website. I have quite a few quarters my step Dad left me, so I'm considering putting them in my next online collection! Until next time my friends, stay SAFE, Coronavirus Free, and healthy!  Charlie aka slybluenote
P.S. My step Dad is the tall guy, 6ft. 2 inches on the left with the "chops", then my mom at 4ft. 11 inches, then me and then DaBoss, then her mom, dad, and grandmother. Picture was taken on 21 April 1979, another pivotal date in my Time Line!!  Take care!!