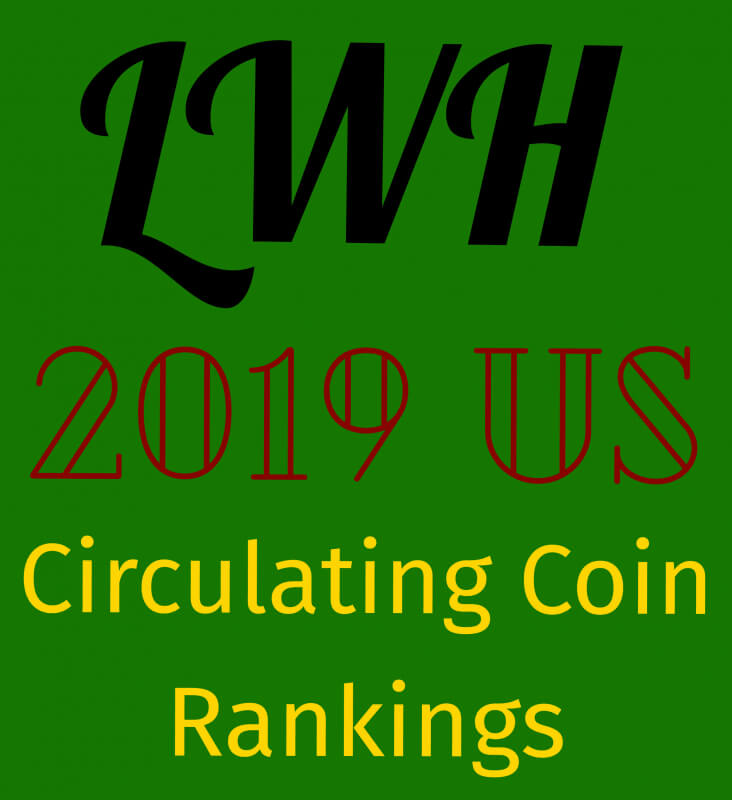 LWH 2019 US Circulating Coin Rankings, Part One
This is part one of a two-part blog(no, this is not the American Coin of the Decade Series, it merely is a ranking of the coins specifically of 2019)
A majority of numismatists have been clamoring for a change in our change. I too may be counted as being among that throng. However, the mint has yet to make any really big moves in the desired direction. Having already made suggestions for how to modify what we have(surprisingly, the mint doesn't want to do a large cent again, strange right?), I now shall endeavour to select what the ranking is for the circulating coins of 2019 are.(please remember these are personal opinions).
In sixth place, the dime!
Out of six, the dime comes last. "Brother, can you spare a dime?" 'Sure, it just will not be any different than any other one I've spared you since 1965, and no different in design than any I've spared you since 1946.' Out of six the dime is last, and last by far. Not a terrible design, but it's been the same for over seventy years! If anybody with high-end influence at the mint reads this blog, please suggest at least a design modification. Even the nickel saw some. Out of six, the dime comes last.
In fifth place, the quarter!
Just missing fourth, it seems strange to see the quarter so low. When the state quarters were being minted, it rather took over from the penny the job of being the first series collected and the main draw for new numismatists. But, that was the state quarter series. In 2019, we are on the national park series. Interesting, and still fun to collect(I myself am engaged in seeking them), it just doesn't pack as much power. Novelty effect is no more with them. Not bad or terrible, just not enough to make it past fifth.
In fourth place, the five-cent!
First off, this isn't just due to my dislike at the fact Thomas Jefferson is staring right at you constantly, it's more than that. In 2004/2005, there was the special design reverse's, but besides that and the rotation of Jefferson to his pocket-hawking position, not much has changed. Regardless, the Jefferson nickel in general is not that attractive. The reverse is an uninspiring portrait of "Montecillo," residence of Jefferson. In an article(I forget where it is, so sorry for lack of it or photo), there was a photo of a different angle of the building, though that design was rejected. It should not have. Or at least it should have been employed at some point, because eventually one becomes tired of the same "tail" after numerous decades. However, even if creepy, change is change, so the nickel does get a slightly higher rank for that. Unattractive, and in ways creepy(I will never get used to Jefferson glaring at me), the five-cent lands fourth place.
This concludes part one.