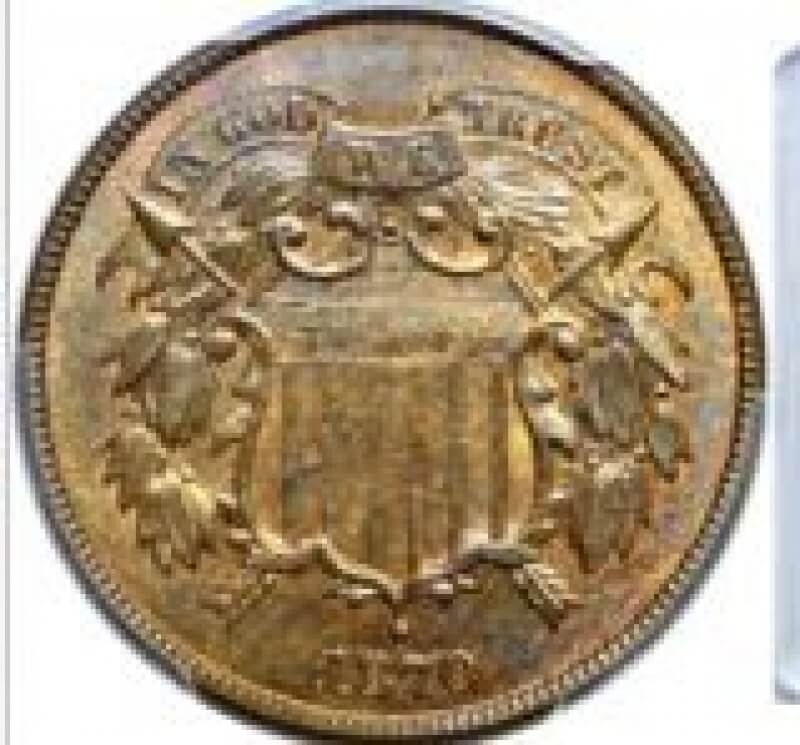 COIN THOUGHTS #3 from "SUN"
I have been doing an unscientific study of the two cent pieces. I feel the two cent pieces would compliment the Indian Cents as a collectible series,both were designed by James Longacre.
Most collectors just collect two cent pieces for a type set. It is a short series, business strikes were struck from 1864-1872 with 45,601,000 made. In Kevin Flynn's book "The Authoritative Reference on Two Cent Coins" it states that 17,068,864 were melted by the government from 1871 to 1881,
which is just over 37% of the total.

After the first year, the mintage of the coins decreased. In 1864 there made 19.8 million, 1865 - 13.6 million, 1866 - 3.1 million, 1867 - 2.9 million, 1868 - 2.8 million, 1869 - 1.5 million, 1870 - 861 thousand, 1871 - 721 thousand, and 1872 - 65 thousand.
Looking at price guides, as the mintage decreases, generally, the values go up a little, but I feel that does not reflex the rarity of the coins. The 1864 is valued a little more than the 1865, but I think that is because of a first year issue. The price guides list the 1866 as about the same value as the 1864 coin. but the 1866 has 83% less mintage than the 1864. I have been tracking the number of two cent pieces offered on Ebay for a period of time. This how the coins rank as appearing on Ebay: 1st -1864, 2nd - 1865, 3rd - 1868, 4th - 1867, 5th - 1866, 6th - 1869, 7th - 1871, 8th - 1870, and 9th - 1872. You might noticed that the 1866 and the 1870 are found less often as compared to their mintage. Is this because a higher proportion of those dates were melted? I believe so.
A person might want to think about collecting the 2 cent pieces as a series and not just as a type coin. In extremely fine condition the 1864 to 1871 coins range in value from $35 to $150. The 1872 is the key date at over $1500 in extremely fine. If you include the 1864 "small motto" that will set you back around $750.