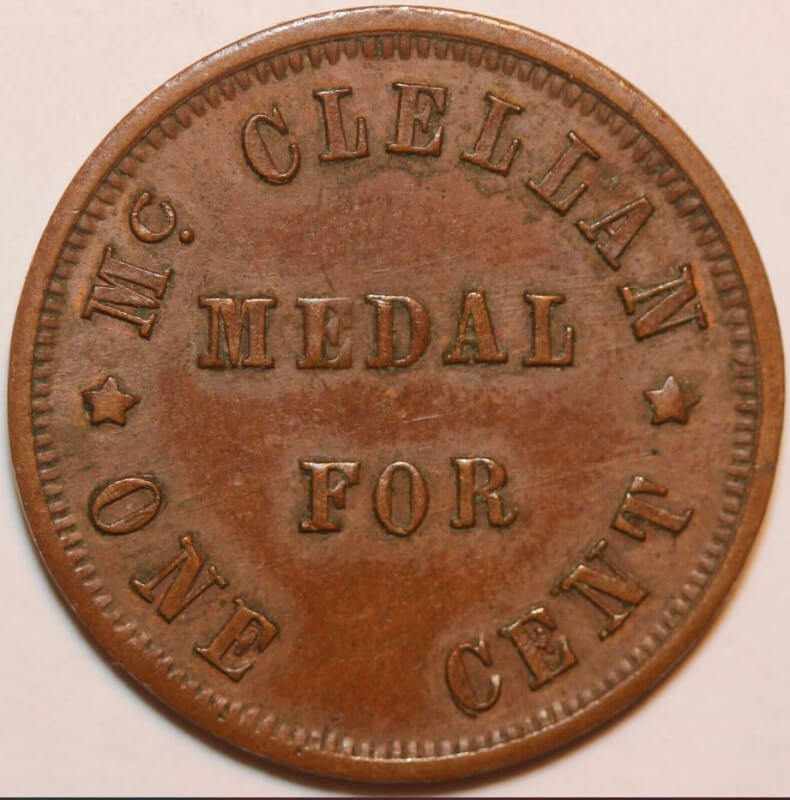 Coin Thoughts #94 by "SUN"
SOME WHAT OF A MILESTONE

I consider myself a novice when it comes to collecting Civil War Tokens (CWT).  I obtained my first CWT in the  early 1960's when my sister received one in change as a carhop at the local A & W drive-in.  I just added my 50th CWT to my collection.  I have added about 40 tokens in the last ten years.  This particular token is known as 140/391 which features General George B. McClellan known as "Little Mac."  The reverse  has  McClellan/Medal/For/ One Cent.

This token was made by Emil Sigel, probably the leading producer of  CWT in the New York City area.

There are over 500 different dies combinations with each other and metals, makings over 10,000 different CWT.  There is no set way to collect CWT.  I I collect by different subject matter.that I find attractive.  

There are seven known dies that feature McClellan, thus this token fits nicely in my "subject type set."

References:
 Patriotic Civil War Tokens 1861-1865, by Civil War Token Society, 6th edition
A Guide Book of Civil War Tokens, by Q. David Bowers, 3rd edition
Engravers, Minters, and Distributors of Civil War Tokens, by Q. David Bowers