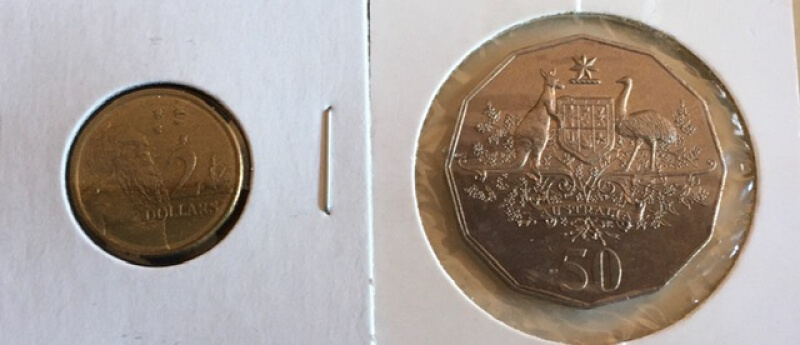 Australia and Kangaroos
Just as the eagle has become a national symbol of the United States and other countries, the kangaroo is symbolic of Australia.  The kangaroo has been on Australian coins since the 1930s on the copper ½ Penny and Penny.  Even before that, the kangaroo had played a smaller, but still important role on Australian coinage.
The silver 3 pence and 6 pence going back to the early 20th century, c. 1910, had the kangaroo on its seal.  It joined an emu in holding up the shield in the national coat of arms.  The shield has an inner and outer part, with a decorated cross in the inside.  This design was used at various points in time from Edward VII to Elizabeth II, with interruptions by a Wheat stalk design in the 3 pence.
An adapted version of the seal continues to be used on current coins, for instance the 50 cent piece from the early 21st century.  The coin is larger than either the two dollar or dollar (both of more valuable copper alloy) and the smaller clad denominations.  With far more design space than the 6 pence, this coin is decorated with a very intricate seal.  The kangaroo and emu remain holding a shield, which has a slightly different design than in the 1960s.  The striking difference, though, is the leaves of a tree which surround the two animals.  There are hundreds of clustered leaves spread across the face of the coin.  It is not so much a coin design, as an artistic display.  Contrasting the increased detail in the decoration is the simplicity in the banner below it.  The 6 pence has a slogan "Advance Australia" on a waving banner, while the 2001 coin has a more utilitarian "Australia" on a simpler scroll.
On other modern designs, the kangaroo has an even larger role, as seen in the 1994 Australian Dollar (post- decimal).  Instead of a kangaroo in a supporting role, this coin has only kangaroos on it.  The entire reverse is 5 kangaroos, with the 1 Dollar denomination in front of them.  They hop around in a circle clockwise around the coin, becoming increasingly bigger until reaching the largest, which stands above the denomination.
One coin that does not have the kangaroo on it is the Australian 2 Dollar coin.  This coin was very small for its denomination, much smaller than any of the fractional denominations.  It shows a bearded aboriginal man, with the constellation of the Southern Cross.  The Southern Cross is a popular symbol for many Pacific countries in the southern hemisphere.  After these two design elements, there is no room left for the kangaroo.
See all the Australian coins and kangaroos: