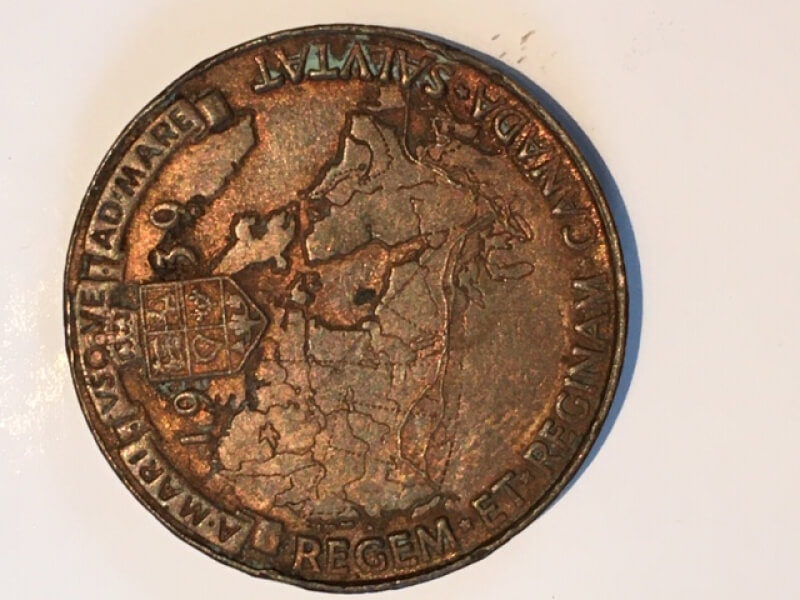 Canadian Token
Royal Visit and Confederation
In 1939, Canada minted a token to commemorate the visit of King George VI and Queen Elizabeth (later known as the Queen Mother).  Their visit crossed the country from Quebec to Victoria and back to Newfoundland over the course of 1 month. The token depicts the bust of the King and Queen on the obverse.  They are similarly dressed and wear crowns. If it were from an older time period, I would have thought it a major double die the two figures look so similar. The reverse bears a map of Canada and the bordering United States and Greenland.  A royal seal divides the date above the map.
Two different engravers, Percy Metcalfe and Thomas Shingles, made the obverse with the king and queen.  Their designs are slightly different in the crown design, faces and military medals. My coin is the far more common, Percy Metcalfe type, most easily distinguished by the difference in the top of the King's crown.  Although it does not have a denomination and doesn't circulate, my coin has bear, rim damage and looks dirty.
Their royal visit was the first by the King and Queen of Canada.  In 1931, the British government granted Canada greater political control and separated the Crown of England from that of Canada.  (However, the same person would be King of both.) Today the Queen of England is also head of state in Canada, but does not exercise real political power.
The Canadian mint in Ottawa also made a silver token with Percy Metcalfe's design.  However, the silver version is almost 50% heavier and 8 mm larger in diameter. It was made of sterling (0.925) quality silver.
While rummaging through an old bin of coins, I came across another Canadian token.  This one was from 1927 for the 60th anniversary of the Canadian confederation. It depicts the king, George V, (father of George VI) and Queen Mary on the obverse.  Twin dates 1867 and 1927 are on either side of them. The reverse shows a highly symbolic Coat of Arms, which includes the Lion of England and the Fleur de Lis of France for the two nations that ruled the country.  This token was similarly made of copper. Interestingly, they were also the same diameter and weight. (Perhaps some spare blanks?)
A much more common Canadian Confederation anniversary coin series was made in 1967, for the 100th anniversary of confederation.  In addition to commemorative coins, another brass token was minted, although it was much simpler than its predecessors.
Sources
Copper - https://en.numista.com/catalogue/pieces27775.html
Silver Token - https://en.numista.com/catalogue/pieces26736.html
History - https://www.thecanadianencyclopedia.ca/en/article/1939-royal-tour