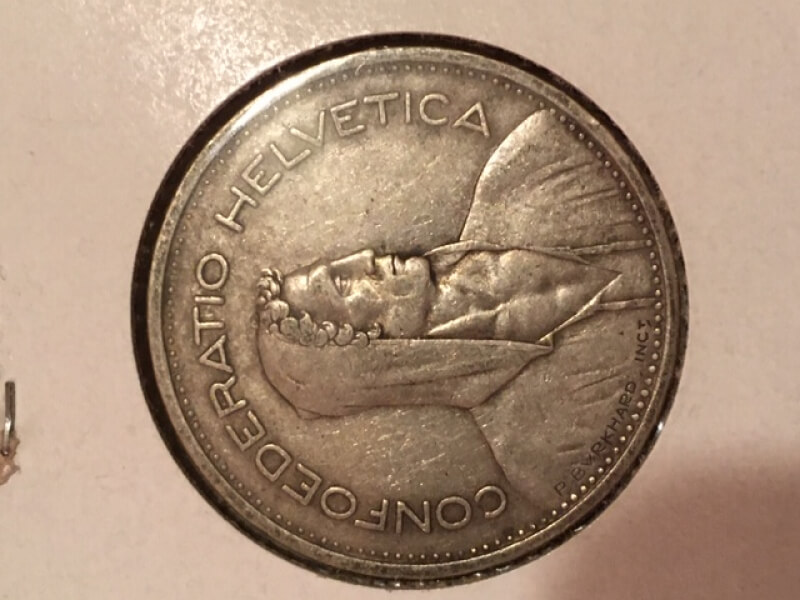 Swiss Coins
If you thought that the US doesn't change their coin designs, welcome to Swiss coins.  The most common denominations, 5-, 10- and 20 Rappen have the same design dating back to the 1870s.  Although the mintage prior to the 1940s was relatively low (1-2 million for the 10 Rappen throughout the early 1900s), they are fairly easy to find.  I frequently find average looking ones only to realize that it is 100+ years old.  
Unlike US coins, these Swiss coins have the same design on all three denominations, and the same metal (copper-nickel).  The obverse and reverse designers were born in 1843 and 1800 respectively. Although this certainly saves on design costs, it sacrifices in collectability (unless you want to assemble a big collection with one per year).  They all have a head with "Liberty", like the US Barber dime and quarter. The country name and date are along the edge of the front. The simple design of the reverse only has the denomination number and a wreath. Such a simple design, yet on so many coins!
Unlike some countries which produce as many commemoratives as possible, the Swiss mint has done very few, and I cannot say I have any.  Last year, the Swiss Mint produced 6 commemorative coins, across three denominations (10, 20 and 50 Franc). Most of those made are of the 20 Franc denomination, with 2-4 per year.  This year they made the popular Roger Federer 20 Franc silver commemorative.
Swiss francs can be more expensive because their exchange rate with the United States Dollar is about 1 to 1.  At the same, many Swiss coins only sell for their approxamently their exchange value or bullion value. Now with the Euro widely used across the continent, Swiss coins offer one of a few unique currencies in Europe.
One of my favorite coins from Switzerland is a 5 Franc silver one, which has a different design from those on the 5, 10 and 20 rappen!  It was "only" made for 39 years from 1931 to 1969. It has William Tell, a Swiss folk hero, on the obverse. The reverse design is something of a combination of the copper 1 Rappen obverse and reverse.  It has the denomination above the shield (which is also the design of the Swiss flag), and a wreath with flowers around it. The date and mintmark are at the bottom. Although there is a mintmark, all of these coins were made at the "B" mint (Bern, the capital).
See also:
Swiss Mint Commemoratives - https://www.swissmint.ch/e/dokumentation/bildgalerie/index.php 
NGC 10 Rappen - https://www.ngccoin.com/price-guide/world/switzerland-10-rappen-km-27-1879-2015-cuid-1090139-duid-1532330