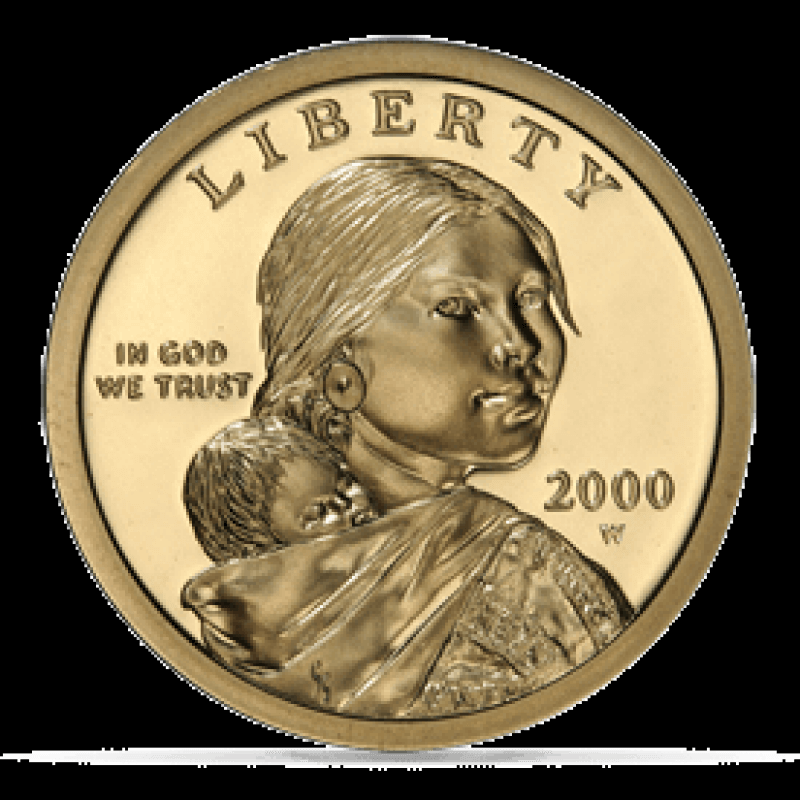 The True Modern "Golden" Dollars
                Many people refer to the Presidential, Innovation, and Sacagawea dollars as "Golden Dollars", due to their manganese brass cladding giving them their "golden" appearance. But the truth is that these coins contain absolutely no gold. Or at least, that is for most of them.
                But there is one small exception to the lack of gold in these coins– the 2000 W Sacagawea Dollar Coins. Collectors better not get their hopes up of owning one though, as there are only 12 of these in existence, all of which are kept inside the Fort Knox Bullion Depository in Kentucky.
                In June 1999, 39 Proof Sacagawea Dollars were struck on planchets for ½ ounce Gold quarter Eagles. While carrying a W mint mark, these 39 coins were struck at the Philadelphia mint.  The United States Mint planned to mint duplicate coinage to sell to collectors, but those plans were quickly scrapped after Congress questioned if the Mint could legally strike the Sacagawea Dollars in gold.
                The Mint kept the satisfactory examples and ended up melting the rest down. There is a general disagreement between experts on if 18 coins were saved, or if only 12 were saved, but most experts lean more towards the dozen examples remaining.
                In 1996, the space shuttle Atlantis ferried a pair of Smithsonian Institution 150th Anniversary Proof Sets to the space station Mir in order to pick up mission specialist Shannon Lucid from her 188 day stay. Now, one of these sets is on display within the National Air and Space Museum at the Smithsonian Institution in Washington D.C., and the other is on display by NASA.
                This inspired the then U.S. Mint Director Philip N. Diehl to attempt to send the Sacagawea Dollars to space. He signed an agreement with NASA to send 12 of the true golden dollars to space aboard the space shuttle.
                In July of 1999, these coins embarked on a truly historic voyage abord the Space Shuttle Columbia. STS-93 was the first space shuttle flight commanded by a female. It also set a new record, carrying the heaviest payload ever carried aboard the space shuttles, with the  22,753kg payload including the Chandra X-ray Observatory telescope.
                After returning to Earth on July 22, 1999, the coins were then transferred to a vault within the United States Mint Headquarters. One of the coins was featured at a private congressional dinner in August 1999, and another was shown at the Philadelphia Mint during the first-strike ceremonies for the 2000-P Sacagawea Dollar coins. In September 2001, the dozen coins were sent to the Gold Bullion Depository within Fort Knox.

                And other than appearing briefly at the World's Fair of Money in 2007, these wonderful coins have not left Fort Knox since 2001.
image Acquired from PCGS.
 Sources: 
https://www.usacoinbook.com/coins/5828/dollars/native-american-sacagawea/2000-W/22-karat-gold/#:~:text=One%20very%20rare%20and%20special,half%20ounce%20gold%20quarter%20eagle.

https://www.pcgs.com/top100/coin5

http://www.smalldollars.com/dollar/page20b.html