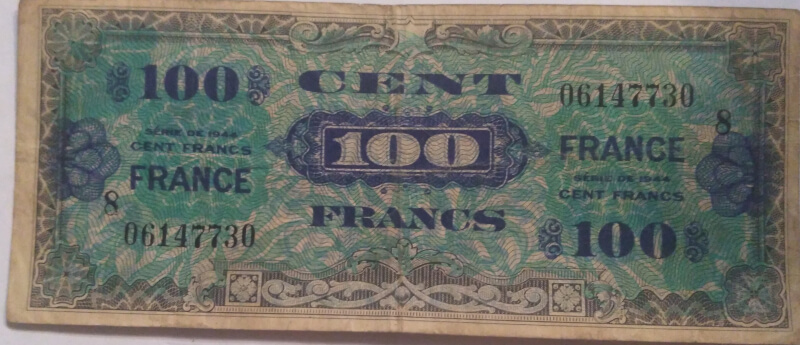 1944 France 100 Francs, Allied Military Government note
This magnificent and historical bill was issued by the Allied Military Government for Occupied Territories to be distributed and exchanged in France during the period of June 1945 to July 1946.á

It is called a French Provisional Franc note and was issued in a second attempt to stabilize the French economy and ruled out completely the notes issued by the Nazi German occupation officials. The first issue was named Supplemental note and brought in to France by the US Forces on D-Day, June 1944 to be shortly after deemed as counterfeit by ranking French officers.á

All, the Supplemental and Provisional French Francs notes were printed by Forbes Lithograph in Boston, Massachusetts in 1944.

Now considered both a highly collectable item and a historical museum piece, this attractive monetary note is being sought by many French numismatists and others.
In my own words.

For further details about this item and others please visit my collections section.

AC Coin$
Freedom. "Never give up."
In God we trust.