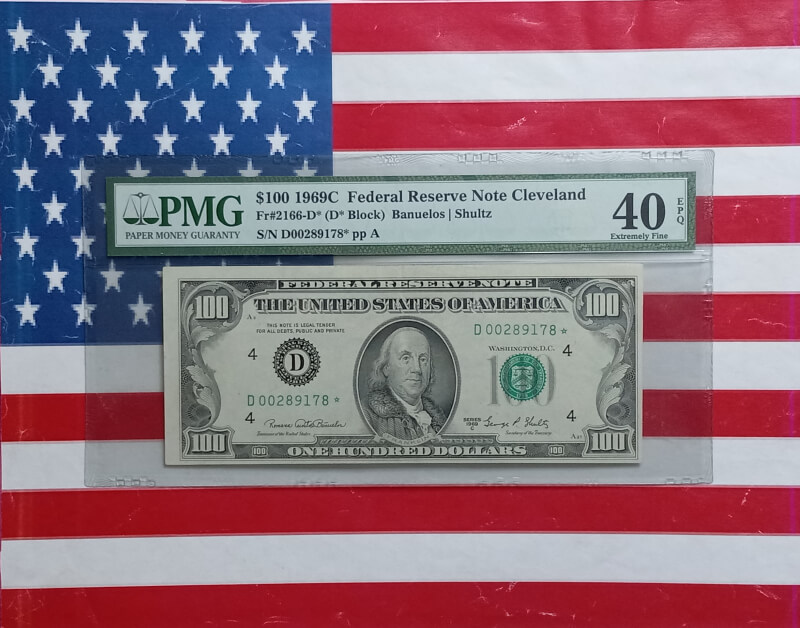 1969 $100 Federal Reserve Note
AC's Secrets #35

US $100 FRN 
S/N: D 00289178*
PMG Graded: 40 EF


During 1966 the Bureau of Engraving and Printing received orders to produce small shaped $100 notes which were issued up until late 1969. The item shown here is one of them with the peculiar condition of being a replacement note or as better known, star note. 
The note shown here was issued for distribution through the Federal Reserve Bank in Cleveland. Its "Extremelly Fine" condition renders the bill a highly desirable note among collectors. 
*Obverse center art detail:Benjamin Frsnklin's portrait.*Reverse art: Independence Hall
The attributes, features and *depictions of the more recent $100 bill are in essence the same however with added security items. The one hundred dollars bill was one of the denominations chosen to remain in production and circulation until our days.Thanks for your comments and visits, enjoy.
In my own words.
For further details about this item and others please visit my collections section.

AC Coin$
Freedom. "Never give up."
"In God we trust."