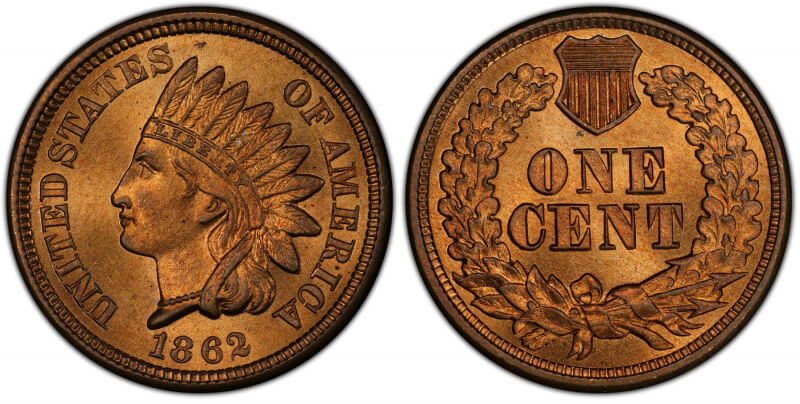 Civil War era coinage - Indian Head cents & Civil War Tokens
                Hello everyone! Today I would like to share with you the history behind the Indian head cents struck during the civil war, as well as the Civil War tokens made at the time to replace cents. Let's begin!
                Tension between the north and south had been boiling in response to slavery, and their opposing opinions on the idea. The Confederate army was not intimidated by Abraham Lincoln's inauguration in March of 1861. On April 12 the Confederates began a bombardment that consisted of over 3,300 shells in succession over the span of just 34 hours. This was enough for the Confederate to gain control of the fort and surrounding area. And so began the civil war.
                These events occurred only 3 years into the production of the Indian Head cent, and 5 years into the production of the US small cent. Rising copper prices forced the US mint to downsize the cent, and change its composition. The original alloy used from 1857 to 1964 consisted of 88% copper, and 12% nickel. This alloy became known as copper-nickel, but would only be put to use for 7 years before they would again change the composition. This was due to the hardness of the alloy, which would result in difficulty to get a good strike and would also wear down the die at a faster rate. The copper nickel alloy was switched to a bronze one halfway through 1864, creating two different composition based varieties for the year.
                As the civil war kicked off, a massive coin shortage developed, causing many different problems. The US mint started reaching record high mintage numbers for Indian head cents to keep up with the demand, but it had little affect on the shortage. Hoarders were at full throttle, and soon coins were scarcely available anywhere. This caused a huge halt at businesses, and something had to be done about it. In response, business from across the country took it into their own hands. They began striking their own coins.
                These privately struck coins are known as civil war tokens, and to be more specific the ones used by these businesses are called store cards. Store card civil war tokens usually would have advertisement or something similar. The other type of civil war tokens struck were Patriotic, and they only had details on the coin that you would expect to see on a US coin. For example, a Patriotic token might have the
the American flag on the obverse, and "Army & Navy" on the reverse. The civil war tokens were a huge hit, and began replacing the Indian Head cents that had vanished from circulation. Millions of civil war tokens of over 10,000 different designs were struck, and businesses were able to provide change again.
                As I mentioned earlier, there are two different types of civil war tokens. Store cards and Patriotic. Explaining all the different varieties that exist is way to complicated to just summarize, so I will have to skip over the topic. Civil War Tokens are designated a number for identification. For example, my token is a #350-299. We don't have an exact mintage number for all these different types, though there is a rarity scale that is based off of the estimated mintage. The scale is called the "Fuld Rarity scale", and it ranges form 1 to 10. If a token fits the description of #1, it is a R1. And if it is #2, then it is referred to as R2. R1 is designated to tokens with a mintage of 5000+, and would be considered very common. Below is the full chart of the Fuld rarity scale:
R1     5000+
R2     2001 - 5000
R3     501 - 2000
R4     201 - 500
R5     76 - 200
R6     21 - 75
R7     11 - 20
R8     5 - 10
R9     2 - 4
R10      1 known
                Soon, the US mint was competing with the favored civil war tokens for circulation. Of course, the mint prevailed by outlawing the production of coins for circulation in the US. The US mint started making fractional currency in 1862, which included 3, 5, 10, 25, and 50 cent bills. Fractional currency was meant to just me a short-term solution, and did not live on any further than 1876.
                Thank you all for reading! Hopefully I will be able to get next week's blog up on schedule. Stay safe, and keep on collecting! Your fellow numismatist, CentSearcher