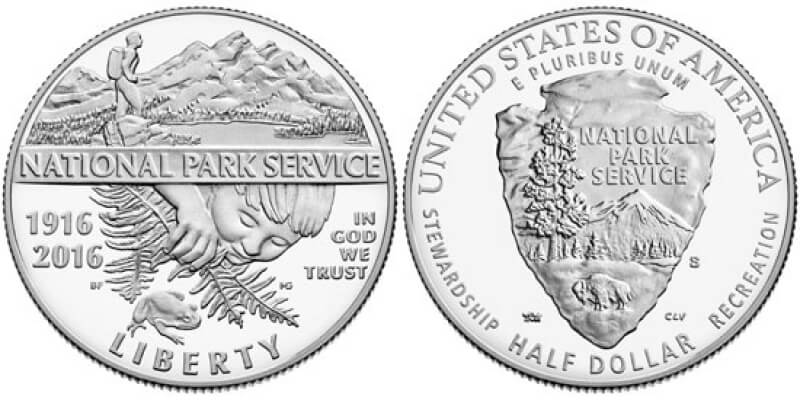 Collecting Modern Commemorative Half Dollars (2016 National Park Service)
Greetings members of the ANA! I've been pretty busy this weekend, but I was able to set aside enough time to put together my weekly blog (let's see how long I can keep it up).  As I mentioned in last week's blog, most of the articles will be related to a recent pickup. The title will have this week's discussion, and in parentheses. I'll also be making titles in bold for each paragraph, because some of my blogs will be really long ;)
My recent purchase
This morning I found an Ebay auction for a coin that had been in my bucket list since the very start: the 2016 National Park Service commemorative half dollar. Some of you may already know from past blogs and forums that I am as much a national park geek as I am a numismatist. While I have been trying to focus on 19th century US coins lately, I couldn't let this one pass for the price. It is a clad proof with a mintage of 54,845. The half dollar became available for purchase on March 24, 2016 with a pre-issue price of $25.95. 
The 2016 National Park Service Commemorative Half Dollar design
On the obverse is "National Park Service" that splits the coin into two scenes. The top shows a hiker on a trek through the mountains and the lower half shows a child finding a frog hiding in some ferns. The National Park Service was established in 1916 to preserve the nation's wilderness, wildlife, and historic sites. The date along with the NPS centennial year 2016 are both displayed on the coin. The reverse features the NPS arrowhead. "The elements of the emblem symbolize the major facets of the national park system. The Sequoia tree and bison represent vegetation and wildlife, the mountains and water represent scenic and recreational values, and the arrowhead represents historical and archeological values." 
Why choose modern commemorative half dollars?
Now to broaden the topic, let's talk about collecting modern commemorative half dollars. There are several different options to consider when collecting commemoratives, but the first question to ask is if you want to collect early or modern commemoratives. Modern might be the best option for budget collectors, though early commemoratives aren't too expensive, but I'll save that discussion for another blog. Next, there are half dollars and dollars ($5 gold coins are also an option, but I'll skip over them for obvious reasons, at least for now). For most years, the half dollar is clad and the dollar is silver, though there are a few exceptions, including the first commemorative half (1982 George Washington). Even silver dates are very affordable, with each example rarely costing more than $25. They come in a variety of different mintmarks, though not all are available for each design. Philadelphia and Denver are found on uncirculated strikes, San Francisco on proof strikes, and even the West Point mintmark in 1993 for uncirculated strikes. There are currently 28 designs, with the mintage usually sitting between 50,000 and 300,000. 
Commemorative storage / display
Once you have decided to start collecting modern commemoratives, there are several methods of storage for you to choose from. One approach is to simply purchase the coin in its original mint packaging. Though it is a good idea to keep the box, coa, and capsule, you can remove the commemorative in favor of a different storage method and be able to pop it back in later. While you can use 2x2 flips, pages, and a binder for your commemorative collection, it isn't very common and I recommend my third suggestion: an album. Unfortunately, there aren't very many albums available for modern commemorative halves, so the best option would be the Dansco. Don't worry, the Dansco 7063 isn't as expensive as some of its brothers and sisters. Keep in mind that the album includes slots for every mintmark, not just one for each commemorative design. One downside to the Dansco though is that because they stopped manufacturing them they only have the slots labeled up to 2011. But there are enough extra blank slots included to put in one for each design following 2011. 
I think that I've held you down long enough. I included a quick list of all the modern comm. halves below for those of you who might want to know them. Thank you all for taking the time to read my blog! Stay safe out there, and keep on collecting. Your fellow numismatist, Timothy
A Complete List of Modern Commemorative Half Dollars
1982 - Washington
1986 - Statue of Liberty 
1989 - Congress
1991 - Mount Rushmore
1992 - Olympic 
1992 - Columbus
1993 - Madison 
1991/95 - World War II
1994 - World Cup
1995 - Civil War
1995 - Basketball
1995 - Baseball
1996 - Soccer
1996 - Swimming
2001 - Capitol Visitor
2003 - First Flight
2008 - Bald Eagle 
2011 - United States Army 
2013 - 5 Star Generals: Arnold, Bradley
2014 - Baseball Hall of Fame
2015 - US Marshals Service
2016 - National Park Service
2017 - Boys Town 
2018 - Breast Cancer Awareness 
2019 - Apollo 11 50th Anniversary
2019 - American Legion 100th Ann
2020 - Basketball Hall of Fame 
2021 - US National Law Enforcement