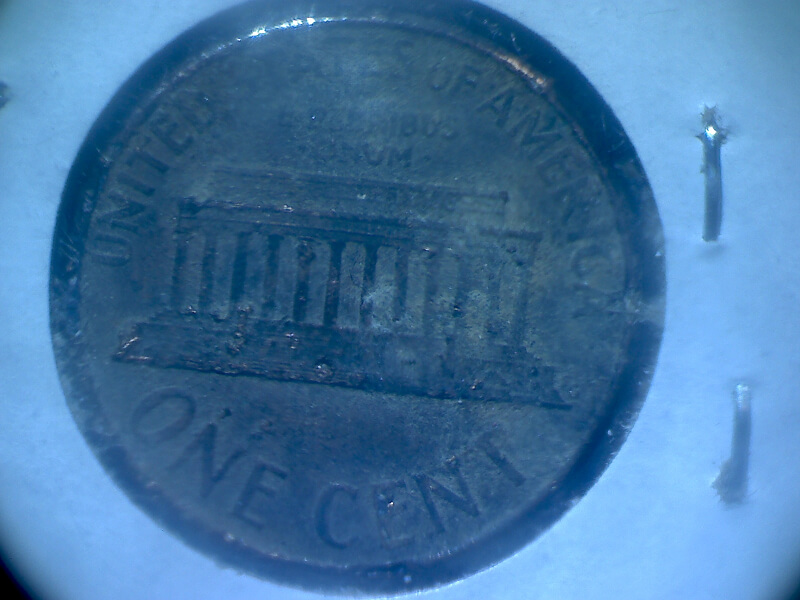 A Wide AM cent from a change machine!
Yesterday I was having a hard time.  I had gone to the library with my mom and sister, but while we were there somebody was not nice to me and it left me feeling misunderstood and sad.  When I got home, I was still feeling a little melancholy.  My dad offered to take me to the bank to get some coin rolls, since I like to look through them to find new coins.  I thought going to the bank might help me feel better, so I put on my shoes and climbed into the car to go for a ride.  When we go to the bank, I always check the change machine to see if anyone has dropped any coins. Sometimes people bring a handful of coins to turn in at the change machine and sometimes people bring a bucketful of coins to put through it.  Whenever people put change in the change machine the change machine sorts and counts the change then it gives the person who had the coins a receipt to get cash from the tellers. Sometimes coins get dropped because people are in a hurry. While looking around the coin machine, I found 64 cents of change that someone had dropped. None of the coins were in the feed slot, but a few were in the coin return, and most of the coins were on the ground.  Among the 64 cents there was a 1998 Lincoln cent that I was 90% sure was a wide AM variety. The coin was almost black and caked with dirt.  I wasn't quite sure because the coin was so dirty that it was hard to see the details.  When we got home from the bank, I looked at the cent more closely and it was a wide AM! Unfortunately, the coin was not in good shape, but it is always fun to find a variety.  I felt happy and lucky that I found it! 
Wide AM cents were made because mint employees accidentally used a proof style reverse die to strike cents that were circulation quality. The circulation dies have close AMs and the proof dies have wide AMs.  They are called wide AM cents because the gap between the A and the M in AMERICA on the reverse of the coin is where you look to find them.  Normal cents minted after 1992 have the A and the M in AMERICA almost touching, so if you look closely and find the gap, you will know that you have a wide AM cent.  If you haven't found a wide AM cent, keep an eye out!  They were minted in 1998, 1999, and 2000 at the Philadelphia Mint.  If you keep an eye out for them, they can be found in circulation.  I have found two so far.