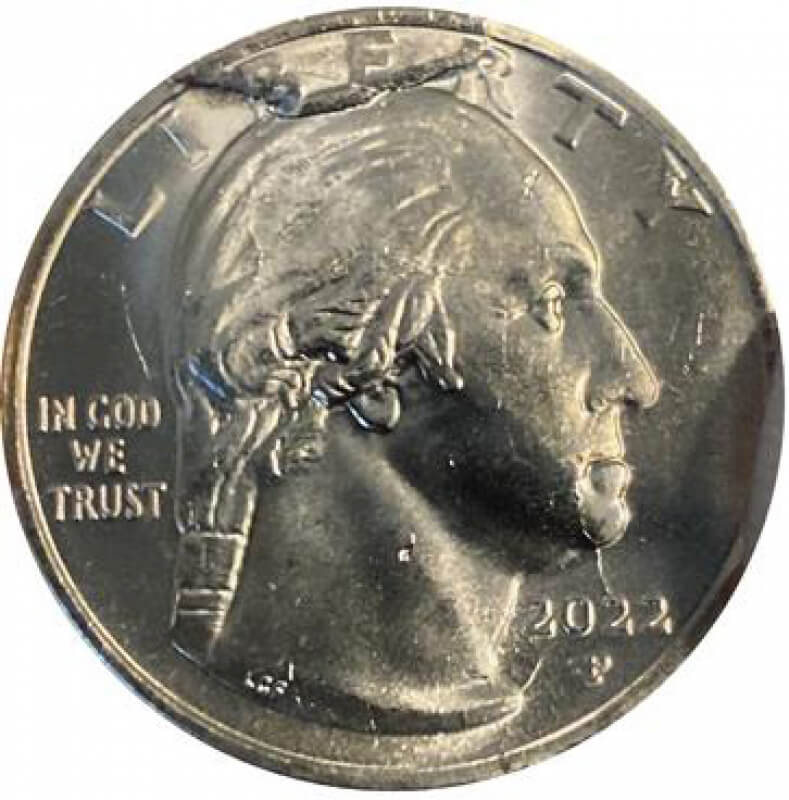 Sometimes while looking through coin rolls, you get lucky and find coins you never would have thought you could find.  It's always fun to stop by the bank and come home with a few rolls to search.
 This story is about the most dramatic error coin I have ever found.
Early in July my dad went to the bank to get some quarters to look through for West Point quarters. He's been stopping by the bank regularly to help me and my siblings complete our collections of W quarters.  We expect him to bring home new coin rolls at least once every week. When my dad got home with a fresh batch of quarter rolls, I decided to look through a Loomis roll that looked like it was full of uncirculated Philadelphia minted Wilma Mankiller quarters.  This design featuring Wilma Mankiller has the obverse designed by Laura Gardin Fraser and the reverse designed by Benjamin Sowers. The first coins with this design were released by the mint on June 6, 2022.   After I looked through about one fourth of the quarters, I came upon something different.  I grabbed a quarter and the reverse looked unusual- it had a big die crack across most of the quarter extending from the rim into the design!   I inspected the coin more closely, and the obverse had a retained cud at the top!  I was so excited I could hardly speak!  I hurried and looked through rest of the roll and found three more of the errors! 
I got my dad to take some pictures, and we sent them off to Mr Sam at the ANA, and Mr John at Coneca to see if they could tell us more about them.  They were really excited too and told me I needed to get back to the bank and see if I could get any more rolls.
The next day I had a dentist appointment at 9:00 which was an hour before the bank opened so after my dentist appointment we stopped at the bank.  My mom asked the bank teller if they had any Loomis rolls, and the teller told us that they did not order coins from the Federal Reserve bank.  Even though they didn't have any more Loomis rolls they did have 56 dollar coins and 4 half dollars so we got them to see if I need any in my collection.  In those coins, I found a proof "Millard Fillmore" presidential dollar, a 2012 "trade routes in the 17th century" not issued for circulation Native American dollar, and a die clash half dollar, but I still was a little disappointed that they didn't have the quarters I was hoping to find more of. Luckily after my dad finished work, he went to the other bank branch and got six rolls of Wilma Mankiller quarters where we found 9 more of the error quarters, four of them only had the obverse retained cud and one of them had the die crack that would turn into a retained cud. These five quarters were heavily struck through grease. Later that month my dad went to the bank again and I found another of those error quarters with the obverse retained cud and the reverse die crack. 
Sometimes you get lucky when coin roll hunting.  I've looked for more of the Wilma Mankiller quarter errors but haven't had any more luck.  I'll just have to keep looking.