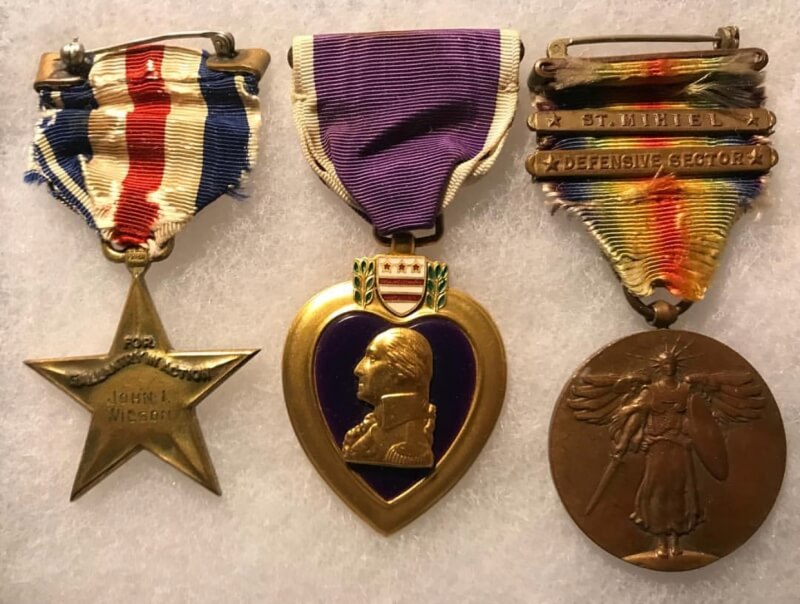 A Selection of US Medals from WW1
Today I will be sharing a few special medals in my collection. These were awarded for actions nearly 100 years ago during the Great War. The Purple Heart and Silver Star medals as we know them today were created in 1932, but the Purple Heart is retroactive to the start of WW1 and the Silver Star, even beyond that. During WW1, the Citation Star, a silver star worn on the Victory Medal, was authorized for acts of heroism not distinguished enough for the Medal of Honor or Distinguished Service Cross. I am honored to own two WW1 Silver Stars and three WW1 Purple Hearts. I will be sharing on of each with you today.
1st Lt John I Wilson's Silver Star, Purple Heart, and WW1 Victory Medal (WW2 unnamed Purple Heart added for display)
His citation:
"The President of the United States of America, authorized by Act of Congress July 9, 1918, takes pleasure in presenting the Silver Star to 1st Lieutenant
John
I
Wilson
, United States Army, for gallantry in action.
1st Liet.
John
I
Wilson
, 61st Inf. On September 16, 1918, in the St Mihiel Offensive, on the heights of Grand Fontaine, 1st Lieut.
John
I.
Wilson
, 61st Infantry, displayed extraordinary devotion to duty, skillful leadership, and utter disregard for his personal safety, while attempting to gain liaison with the 60th Infantry on the left flank and close a gap between the two regiments, he suddenly found both flanks of his platoon exposed. At once he ordered his platoon to withdraw, and although subjected to intense shell fire and gas, he remained behind until he gained tough with a detached post and saw that it withdrew in safety. He then succeeded in safely withdrawing all of his platoon, and in doing so he was bruised severely three times by shrapnel, and gassed, refusing, however, to be evacuated, he remained with the platoon until the Regiment was relieved the following day.
By command of Brigadier General Castner
Citation star authorized
Silver Star Medal Authorized 12-2-32"
Pvt James S Jones' KIA Purple Heart
Pvt James S Jones, 16th Infantry Regiment, 1st Infantry Division KIA 4 October 1918 during the Battle of Fleville, Meuse Argonne Offensive. He is burred in the Muse Argonne American Cemetery. Note: The Purple Heart was not a posthumous award during WW1, but it was made a posthumous award during WW2 and family members could request a WW1 KIA heart from the government. This Purple Heart is Circa 1942.
I'd like to thank these men, and all of the others, for their humble sacrifice in the defense of our country and our way of life. Through the preservation of their medals, we are keeping their memory alive.