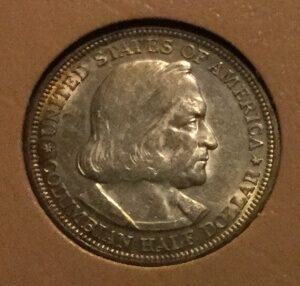 A coin that sparked my imagination...
I got my start collecting coins going through pocket change for the odd Buffalo Nickel, visiting the local coin shop to help along my circulated Lincoln Cent collection, and pouring over pictures and stories of coins I hoped to own someday (you know, the usual story).
A coin that always captured my imagination was the World's Columbian Exposition Half Dollar. I loved the design, with Charles Barber's bust of Christopher Columbus on the obverse, and George T. Morgan's engraving of Columbus's flagship, the Santa Maria, on the reverse. It was minted with the dates 1892 (the year before the Exposition opened) and 1893. A great many of the coins, particularly the 1893 mintage, remained unsold ar fair's end, and were either melted, or released into circulation. (Because many of the coins, especially the 1893, are softly struck, many uncirculated coins are rejected as having wear, which makes it nice to have your high grade MS specimens certified.) Imagine that happening today... Attached is a photo of an XF/AU 1893 in my collection.
It's fun to imagine where the coin has been; was it actually circulated, or was it carried around in the pocket of a proud attendee of the Exposition? This is the kind of stuff that makes coin collecting the world's greatest hobby. I've collected a couple of examples of each date over the years, and it still brings back memories of a coin that seemed so exotic and out of reach to a budding 10 year old numismatist.
Is there a particular coin that first sparked your imagination, and maybe holds a special place in your collection (or your heart)? I'd love to read about it!