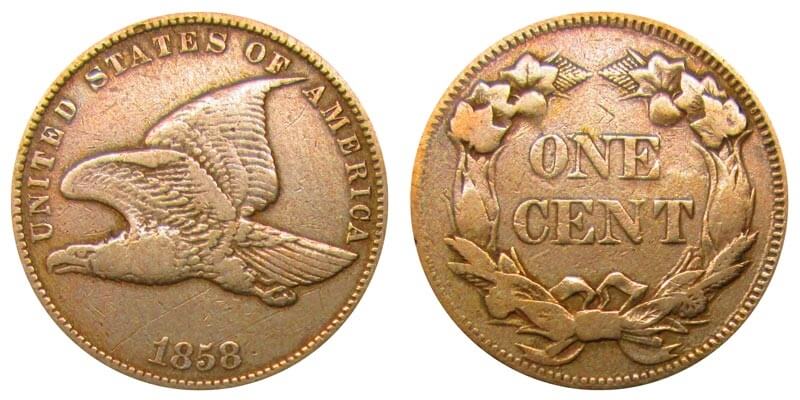 History of the Flying Eagle Cent
The Flying Eagle Cent
is a one-
cent
piece struck by the Mint of the United States
as a pattern coin
in 1856, and for circulation in 1857 and 1858.
The coin was designed by Mint Chief Engraver James B. Longacre
with the eagle in flight based on the work of Longacre's predecessor, Christian Gobrecht.
The Flying Eagle Cent weighs 4.67 grams and are 19mm in diameter. The coin's composition consists of 88% copper and 12% nickel. All coins were struck by the Philadelphia mint and do not bear a mintmark.
Many examples of the Flying Eagle Cent is weakly struck (especially around the eagle's tail and head) due to its hard copper-nickel alloy. The Mint's attempt to strengthen the design's strike led to many die breaks.
The Flying Eagle Cent was issued in exchange for the worn Spanish colonial silver coin, t
hat Was being circulated in the U.S. before it.
Throughout the Flying Eagle's short lived Series, the general public grew to dislike it's design. The Flying Eagle Cent was replaced by the Indian Head Cent in 1859. Ending America's first small Cent design.