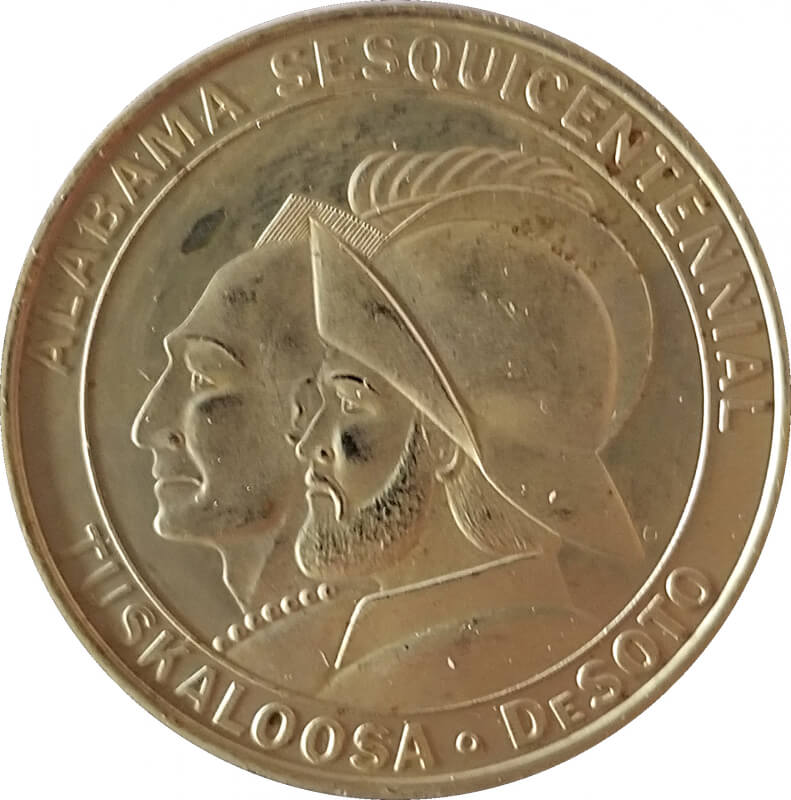 The Alabama Sesquicentennial Token
Here is a completely unexpected find at Jefferson Coin Shopá in Charlottesville, VA that I bought last week. I had gone to get a type II ASE but I looked in the bargain bin and found this. Well, as a proud graduate of THE University there, I couldn't pass it up. I knew nothing of the existence of this token and I have yet to learn about who minted these, but I did find the following information.
On the obverse we see Chief Tuskaloosa, though in Tuscaloosa I have seen the Chief's name most often spelled Tushkaloosa, and there are references to it spelled as Tascaluza. He was a great chief of the Mississippian Indian Culture and met Desoto (the Spanish Explorer in the Battle of Mabilia in 1540. It is not known precisely where the battle occurred but it is theorized it occurred near today's Selma. Despite inflicting heavy casualties on the native people, Desoto was totally routed and the journey did not end well for Desoto who died in 1542.
The token weighs 12.2 grams and is 34 mm in diameter. It is composed of bronze. The Obverse and Reverse have a medal alignment.á It was minted in 1968 and its rarity is 93. Apparently, there was also a silver token issued as well.