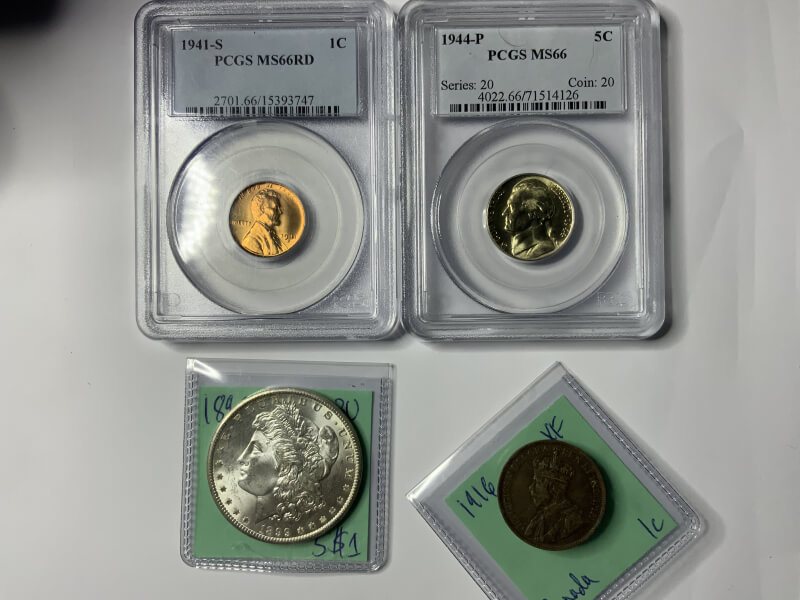 2x W Quarters, YN Auction Wins, and More!
Hello fellow numismatists!

Boy do I have a lot to talk about! I recently received my lots from the 2022 Yearly YN Auction which include a PCGS MS66 1944-P Jefferson Nickel which is sadly not FS, a PCGS MS66RD 1941-S Lincoln Cent, a raw BU 1899-O Morgan Dollar, and a 1916 Canada Cent. All of these I won for various prices. Check out my earlier blog for more information on those.

I also recently bought a NGC MS68 2021-D Tuskegee Airmen 25c on Ebay for around $28 which I thought was a great deal! I tried to sell it at my coin clubs monthly auction but sadly it didn't sell. Speaking of which, I did sell a VF30 1930 Standing Liberty quarter for $17 and a roll of 20 2019-P Georgia Innov. Dollars for $28 which made me a little bit of money. But then I squandered it all on a lot of 2 W quarters for $35 at the same auction at my coin club. These include an PCGS MS64 2019-W Lowell quarter and a NGC MS 65 2020-W Early Releases American Samoa quarter in the Vday holder. I really love the American Samoa design and they came as a package deal for $35 which I thought was great. I also won a 1975 British Virgin Islands proof set in its holder for $16. I thought it was a cool lot for pretty cheap so I got it.

That's a lot for my recent purchases and sales so thanks for reading my blog and have a great day!

CheerioCoins