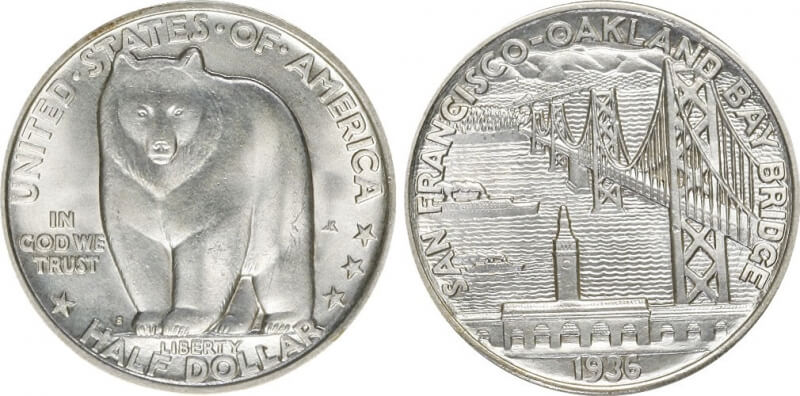 My Favorite Classic Commem: The 1936-S Bay Bridge Commemerative
In 1936, the San Francisco-Oakland Bay Bridge opened. It is one of the most famous bridges in the U.S. today. The same year they made a silver commemorative half dollar for it. This is my favorite classic commemorative.
I first saw this commemorative in Red Book and was interested in it. The design was beautiful and has a grizzly bear on the obverse, which symbolizes California. The back features the Oakland Bay Bridge. It was designed by Jacques Schnier, who lives in California, and is American sculptor and visual artist. This is the only coin he has designed, which is a pretty great coin, but he is known for his sculptors.
It has a mintage of 71,424, which is  a good, healthy mintage for an early commem. The coins value goes from $140 in MS60 to $18,000 in MS68. It is 90% silver and 10% copper. It was only minted at the San Francisco (S) mint. The coin has a diameter of 30.60mm and a weight of 12.50g. The San Francisco-Oakland Bay Bridge or just the Bay Bridge is a giant bridge in Oakland, California. It opened on November 12, 1936, the same year they made the commemorative. It spans around 4.46 miles making it the world's largest bridge.
Originally in November of 1936 there were 100,055 Bay Bridge commems struck. Most of them were sold at drive- up booths at the bridge of $1.50. After that they melted 28,631 unsold commems and that left it with the mintage of 71,424. There are a lot of them and in really good condition. Most are in mint state condition and many have nice toning, luster, and/or eye appeal.
As I said in the title, this is my favorite early commem and may be my all time favorite commem. It has a good price range that is affordable for me and I'm saving up my money to eventually get one in around MS60-MS63 condition making it around $140-$175. 
Thanks for reading my blog and have a great day!
CheerioCoins