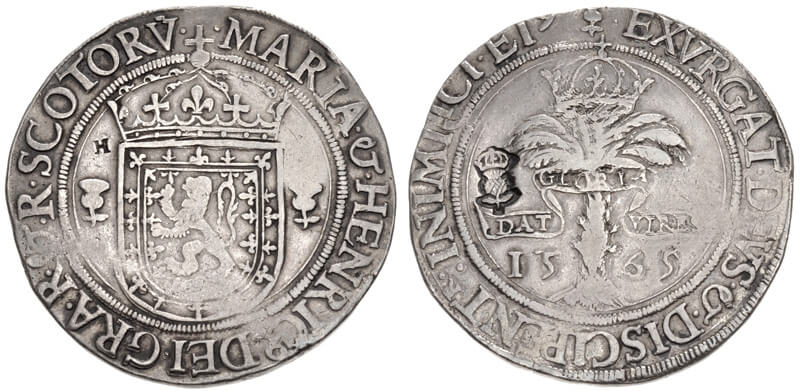 Here is a completely unexpected end to my year. This is a bucket list coin of mine.

A local co-club member of mine was a big-time fan of coins from Scotland, which is how there originally came on my radar. Paul had an impressive collection and he was very passionate about it. In my time with the club, Paul spoke several times on different segments of Scottish numismatics and always made time to sit down and talk about the subject.

I first saw one of these in person at the 2016 ANA in Anaheim. Heritage sold one. The closest I came was being able to look at it in lot viewing. I attended the live session and never even got a chance to raise my hand because the price quickly exceeded my limited budget.

Since that time I have bid on at least a half dozen more. Even with more aggressive bidding on my part, they all have slipped through my fingers.

Recently I was browsing "The Coin Shop" on CNG. This is something I don't do often because typically they don't have anything in the "Shop" that interests me. And there it was. I know I paid high retail but you know how it goes. You have to pull the trigger when the opportunity arises. I actually purchased it for less than they have been selling for at auction so I am happy with the price.

These are scarce but also highly desirable to a wide-ranging group of collectors.

Unfortunately, I will not be able to share my addition with Paul. Earlier this year he had an accident in his backyard that ended his life. I know he would have loved it. This was a denomination that he didn't have in his collection.

Does anybody have an idea what the H countermark could mean?

Description:
SCOTLAND. Mary. 1542-1567. AR Ryal (42mm, 30.31 g, 1h). Fourth period, Mary and Henry Darnley. Second issue. Edinburgh mint. Dated 1565. Countermarked for revaluation of 1578. Crowned coat-of-arms of Scotland

Obverse: thistles flanking; c/m: small H
Reverse: Crowned palm tree, upon which tortoise climbs; scroll across field; c/m: crowned thistle.
Rampling dies A9/54; Burns 1 (fig. 904); SCBI 58 (Edinburgh), 1169/1170 (same obv./rev. dies); SCBC 5425. For c/m: SCBC p. 76.

Attractively toned, small "H" countermark on obverse.