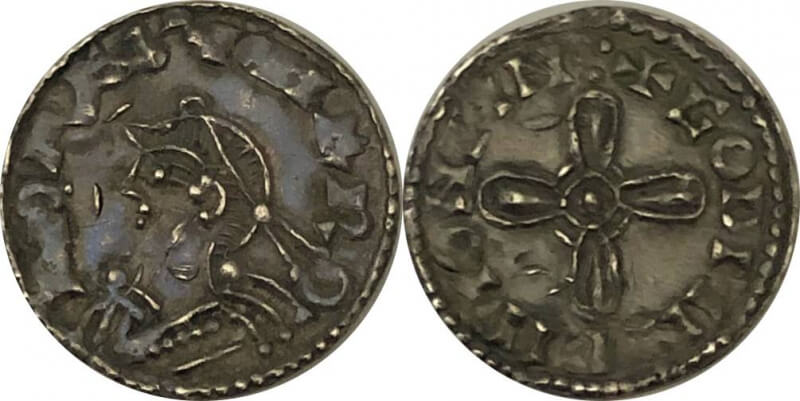 Here's an unexpected find at this month's local coin show. The picture could be better but it is a pretty good representation of what the coin looks like in hand.

Harold I is not nearly as well know as his father Cnut the Great. This is probably because of his short 5-year reign and the fact that he wasn't the obvious successor to his father.
ANGLO-SAXON, Kings of All England. Harold I Harefoot.
1035-1040.
AR Penny
Diameter: 17mm
Weight 0.87 gr

Jewel Cross type (BMC i, Hild. A). Suðgeweorc (Southwark) mint; moneyer, Leofric. Struck 1036-1038. +

Obverse: HAR OLD RE, diademed bust left
Reverse: + LEORIC O ((NN) SVÐG:, cross composed of four ovals united at base by two concentric circles enclosing a pellet.

SCBI 40 (Stockholm), 532 var. (Rev. Legend); Hild. 924 var. (Same); BMC -; North 802; SCBC 1163

A short history adapted from Wikipedia:

Harold I (1016–1040), also known as Harold Harefoot, was King of England from 1035 to 1040. Harold's nickname is first recorded as "Harefoh" or "Harefah" in the twelfth century in the history of Ely Abbey, and according to some late medieval chroniclers, it meant that he was fleet of foot.

The son of Cnut the Great and Ælfgifu of Northampton, Harold was elected regent of England following the death of his father in 1035. He initially ruled England in place of his brother Harthacnut, who was stuck in Denmark due to a rebellion in Norway which had ousted their brother Svein. Although Harold had wished to be crowned king since 1035, Æthelnoth, Archbishop of Canterbury, refused to do so. It was not until 1037 that Harold, supported by earl Leofric and many others, was officially proclaimed king. The same year, Harold's two step-brothers Edward and Alfred returned to England with a considerable military force. Alfred was captured by Earl Godwin, who had him seized and delivered to an escort of men loyal to Harefoot. While en route to Ely, he was blinded and soon after died of his wounds.

Harold died in 1040, having ruled just five years; his half-brother Harthacnut soon returned and took hold of the kingdom peacefully. Harold was originally buried in Westminster, but Harthacnut had his body dragged up and thrown into a fen (marsh), as well as then thrown into the river Thames, but it was after a short time picked up by a fisherman, immediately taken to the Danes, and honorably buried by them in their cemetery at London.

This coin reminded me of a question of have never seen addressed here. What is considered the cutoff between a coin being considered an ancient versus medieval?

One opinion is that anything after the fall of the Roman Empire is no longer an ancient coin. Still sounds pretty ancient to me. Since anything after the year 1600 is considered modern that means that medieval coins lasted for over 1000 years. Is that correct? I don't know but it would be interesting to hear other opinions.