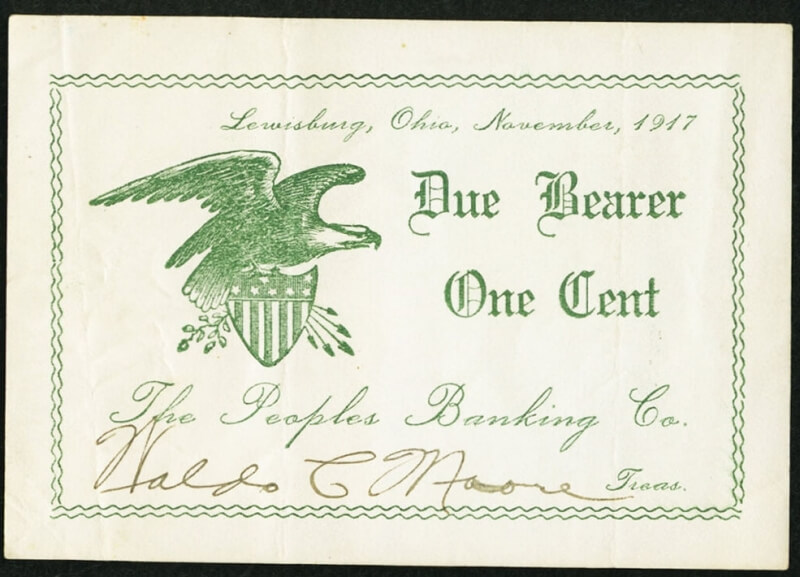 Waldo C. Moore signed Note
Hello all. I thought I would continue with the recent increase in blogs on Paper Money.
I don't collect a lot of paper money, just stuff that grabs my attention for some reason. The attraction for this piece came from it being signed by former ANA president Waldo C. Moore. He was one of the leading numismatists of his time. It is believed that he had the largest collection of checks assembled at the time. The auction I purchased this from had it listed with obsolete bank notes. I believe it to be one of the bank drafts mentioned below.
The below is from a forum post found here:
http://www.papermoneyforum.com/post/waldo-c-moore-collection-an-early-20th-century-numismatist-8250084

Waldo C. Moore is a well known numismatist from Ohio. He was the 13th president of the ANA serving in 1919 and 1920. He created many different scrip from the early teens through the 1940's. He passed away in January of 1953 at the age of 78.
He was born in a small town called West Baltimore, Ohio, on July 23, 1874. The town is now known as Verona. At the age of 36 in 1910, Waldo took a series of examinations and became a successful bookkeeper. Moore and his wife Imogene operated a stock farm in Preble County, Ohio among other businesses. His 200-acre farm was one of the finest in the county. Waldo worked as a banker for the Peoples Banking Company in Lewisburg, Ohio. If you collect Ohio paper money of any kind then you've probably heard of Waldo.
Waldo was an avid numismatist and philatelist. His collections of rare coins, currency, and stamps were some of the largest and finest in America. He specialized in memorabilia related to Ohio financial history. Waldo also loved to share the extensive knowledge that only a serious collector accumulates. He wrote over 130 articles and many poems regarding his collecting hobbies that appeared in The Numismatist. He was an avid check collector and especially liked checks autographed by celebrities of his time. He would send them a bank draft for 1 cent from The Peoples Banking Company of Lewisburg, Ohio. In return celebrities would send him a signed 1 cent check. He did this successfully hundreds of times and they are highly sought after even today.