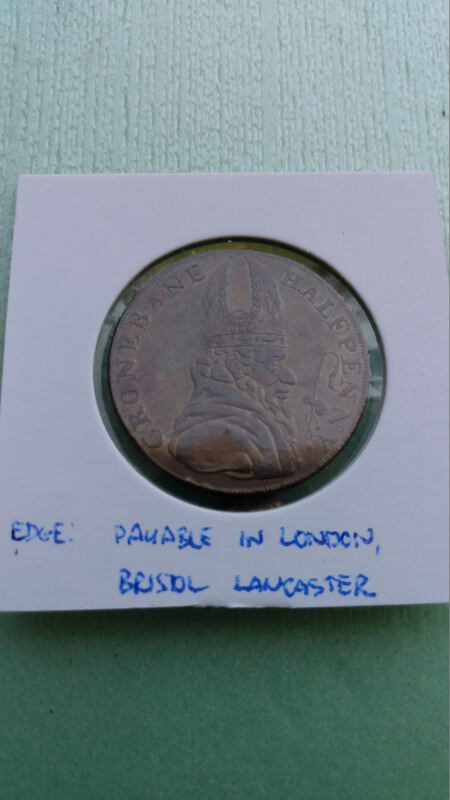 Broadening of the Horizon
In my quest to complete the circulating coinage of my ancestors, those from Ireland, the fascinating  sub-type of coin collecting Condor Tokens drew me in when finding and buying the beauty in the images. The Cronebane-Wicklow, the subject of the week.           Enjoy!



Before beginning, it would only be befitting to thank member Mike Byrne for not only introducing me to these intriguing works of art in coin form but for the countless advice and answering of questions he has provided. I can think of no one more versed and knowledgeable  on condor tokens. 


The 1789 Cronebane Halfpenny. A rather large, hefty disc of copper about the size of the U.S. half dollar. Struck at a time when imperial copper coin was  scarce for use in day to day transactions, this particular token served as payment to the Irish workers of the Cronebane copper mine in County Wicklow, Ireland. The Associated Irish Mine Company formed about 1787 for the purpose of working copper mines as well as a few other metals. It's office was located on Great Britain Street in Dublin, Ireland and incorporated by an act of Parliament in 1789, the year in which they struck their first coins. Three other known dates, 1793, 1794 and 1795 were also coined, and along with the large survival figures these actually circulated quite well. Despite the Crown putting a stop to privately issued tokens these also found their way in commerce for many years afterwards. 


The obverse bears a bishop, thought to be Saint Patrick, yet no records indicate this to be the case. For the 1789 there are some dozen varieties, such as the staff and ribbon location, which indicate that as many dies were cut and modified. The reverse depicts a shield design, encircled by Associated  Irish  Miners Arms. Which seems odd for two reasons. ARMS rather than COMPANY for who issued it and the purpose of it's intended use. There are again, no records indicating that arms were provided for the miners, perhaps a reference to the shield design being the company's logo or crest.  Second, in some of the later years the phrase was changed.  Finally, edge lettering is rolled into the coin with several variations of inscription. PAYABLE IN DUBLIN CORK OR BELFAST, or on this specimen PAYABLE AT LONDON BRISTOL OR LANCASTER. While the vast majority of condor tokens were struck at the mint in Soho, England, my research confirms this one to have been designed and struck by Hancock of Birmingham, England.  


The specimen in my care is more of a matte bronze than chocolate brown like most copper of this age, with undertones of red, violet and deep blue throughout when viewed in the proper light and angle. Under a 6x lighted magnifier there are no visible signs of wear, softening of some edges in the detail, but overall a cleanly struck up token. This one I am sending off to NGC to confirm my opinions as to it's actual grade, along with the correct Dalton-Hamer (DH) number. Thanks Mike for recommending that book! On it's way as you read.