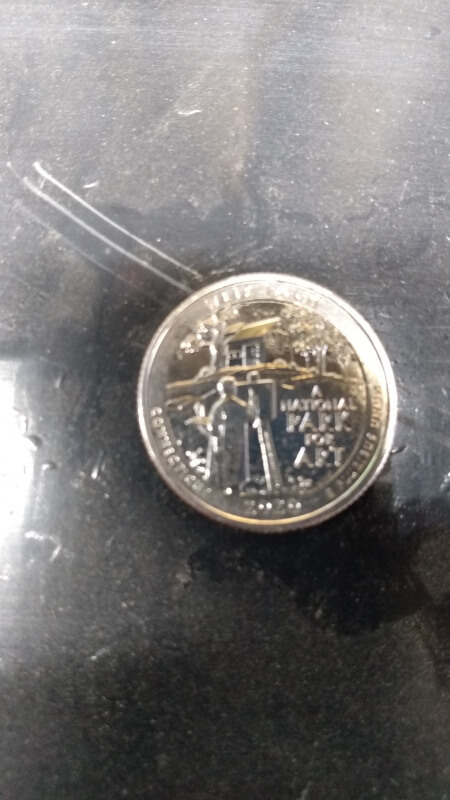 Since I've been extremely busy with another project and shirking my duties of regularly posting a blog, this is a quick one.   Enjoy!


I have a nine to five job where they treat me better than fair, meaning free coffee from a high end maker no less! While I drink at least a ten cup pot ever day, no not just at work, yesterday was one of those days I felt the urge for a Dr. Pepper. While not free like the coffee, at $1.50 for a 20 oz. bottle it can't be beat when they sell for around $2.70 at the not so convenient anymore store. $120 a week just to make a living. Ugh. Sorry, getting side tracked. Anyhow, all I had in my billfold, aside from the moths that flew out at me, were two fives. Great, a pocket full of change to add to all the other crap I carry in my pocket every day.  I quickly glanced at the pile of quarters before dropping them in the left pocket with my cell phone and utility knife.  It wasn't until I got home, where this month's issue of the Numismatist greeted me on the counter where my better half leaves my mail. Emptying my pockets on the desk , now in the sanctuary ( a room all of my own, and quiet unless ZZ Top is on, which it was, My Heads in Mississippi). I checked my emails and finally looked at all those quarters. Low and behold, a West Point Weir Farms, my eighth W quarter so far but first since spring of last year. Okay, let's here it. The photos suck! I attempted to tilt it just right to show the wear which makes this an AU, but straight on it looks mint state all bright and shiny. Having found another without looking, from change, I started to thumb through the Numismatist and there on page 26 is an article on West Point quarters.  What are the odds? Perhaps I should have went and bought a lottery ticket yesterday as well.


So don't give up as they are out there, and surprisingly not in that bad of condition.   This one would look perfect in an album.