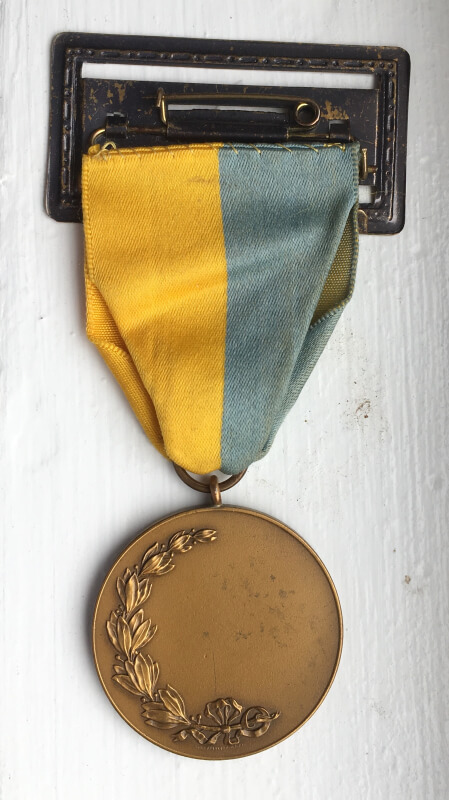 1957 ANA Convention Medal
Found this in the local coin shop recently.  I've not been able to attend an ANA convention yet, and it's something I look forward to doing someday.
I'd actually been looking for the kind of name tag holder at the top of the medal, when making awards of our own for our young numismatists' club.  You really could fill them with anything:  the name of the award recipient, the name of the award for which the medal was given, the name of the numismatic club giving it, etc.  Some of the same info could be engraved on the back, though, so it's probably best as a name holder at a convention.  The way these are designed, the name holder could be card stock, or something fancier, as long as it wasn't too thick and slightly flexible.
The back of this medal particularly reminds me of some stock Medallic Art medal reverse options I've seen in the past, although since they've been bought out of bankruptcy by another company, I don't see the full former line of stock reverse options anymore.  I'd looked at them as recently as a couple years ago, and this one looks familiar.  I do not see any hallmarks on it though.

The medal has a few spots but is overall in pretty good condition.  The name holder has a small spot of what looks like rust along the top front, but not too bad.  The ribbon drape itself looks a little faded and just a tad grungy but not all that dirty.  It was probably stored for years in a box or drawer.  The construction of this medal is such that it could be completely disassembled, hanger from ribbon from medallion, if a cleaning was to be attempted; but I don't think the ribbon would hold up to much attention.  It's solid but I'm thinking any sort of fluid would leave stain marks or maybe wash out even more of the color; and the stitching holding the drape loop together might be too fragile to stand up to anything like that.  I will probably leave everything as it is.

From a cursory internet search, I don't see ANA Convention medals reselling for very high prices as collectibles.  Some (different years) are seeking around $10 to $12 for them.  I would imagine it would be quite easy to come up with an attractive array of several different years for not much money.  As with any series there's bound to be some that are harder to find than others.