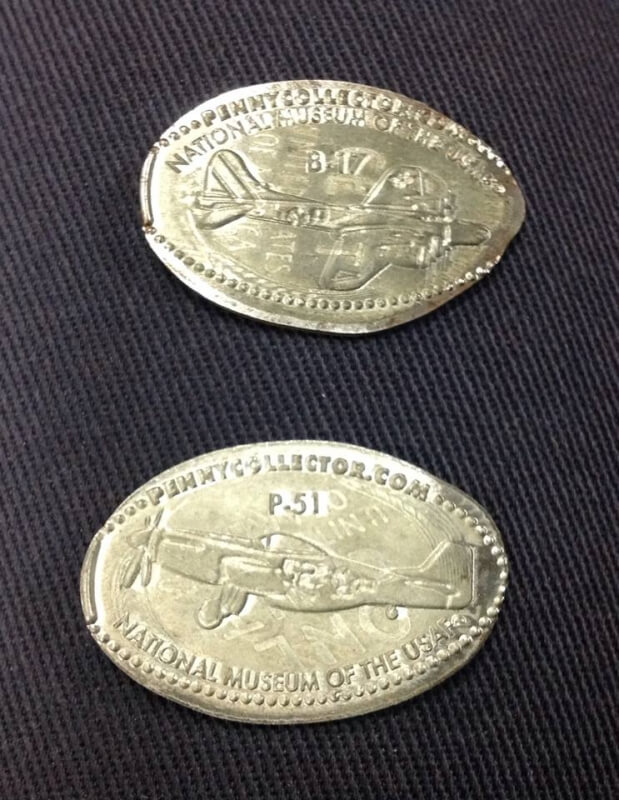 Elongated Cents: A WW2 "Squishin' Mission"
Recently some friends visited the National Museum of the United States Air Force. Since that is not very far from us, my son and I met them there. The NMUSAF is a VERY cool museum, especially if you are at all interested in the history of powered flight, military aviation, American history, the space race, etc. It's all fantastic, but I must admit my favorite gallery is still the Second World War gallery. Among the many displays there are a handful scattered around the museum that contain items of numismatic interest. But this past month has been all about the "Memphis Belle", arguably one of the most famous aircraft of WW2, if not US Air Force history. This particular B-17 Flying Fortress is to the Air Force what the flag raised over Mount Suribachi is to the USMC: a symbol of the dedication and great sacrifice leading to ultimate victory over the enemy. "Memphis Belle" just finished up a 13-year tour of duty in the Wright-Patterson AFB restoration hangar, and now sits proudly on display for all to enjoy.

In the Museum gift shop, along with several types of "challenge coins" for sale, are three penny press machines, each with four different designs from which to choose. With a US cent and two quarters, you can go home with a neat little souvenir of your visit. Our friends, also being numismatists, decided to do so. They carefully chose pre-1982 US cents, and positioned them so that the date, although squished, would still be visible on the unmarked side of the elongate.

In case you weren't aware, in mid-1982 the composition of US cent coins changed from 95% copper/5% zinc to almost the exact inverse: 97.5% zinc, plated with 2.5% copper. While these will work in a penny press, the end result is an elongate with silvery zinc showing through the copper plating. This initially can make the image harder to see; but worse than that, exposed zinc quickly deteriorates. Cents from 1864 to 1962 are bronze: 95% copper, with the remaining 5% a mixture of tin and zinc; these press well, and tone the same over time as an unpressed cent.

There are two exceptions to the 1864-1962 bronze composition: the 1943 zinc-plated steel cent, and the 1944-1946 "shell case" cents. Shell case cents had some spent brass cases from military munitions thrown into the mix when melting the metals from which the coin blanks would be made. Many folks don't know about shell case pennies, but even the most casual "wheat cent" collector seems to know about the 1943 steel version. It is therefore likely the most recognizable WW2-era US coin. Coincidentally, 1943 was the year "Memphis Belle" completed her 25th, and last, combat mission.

Two of the penny press designs available were of the venerable B-17 bomber and the famed P-51 Mustang fighter. I decided I would not only like to press these images onto pennies, but that I would use pennies with WW2 dates. See the picture. Note that these were pressed onto 1943 steel cents. The quintessential WW2 US bomber and fighter on the quintessential WW2 US coin! I don't know why the B-17 coin didn't roll out as nicely on the edge as the P-51, but I still like it. Although not pictured, I did press these same designs into some 1944 shell case cents also. Maybe the shell cases in those cents were from spent rounds fired by an actual B-17 gunner, or a P-51 pilot! (grin).

[UPDATE: I think I've figured out why the B-17 rolls out short... The machine rolls the image left to right. The wing, engine cowlings, and front canopy in the design leave such a mass of metal "un-pressed" near the right end, that it doesn't push enough metal ahead to the right to finish it. I have both full-length and short elongates of this design done on bronze cents, but mostly full length, so the hardness difference between bronze and steel is a likely contributor, along with extreme wear being a possible reason a bronze one came out short. Crank speed might be a factor but I don't know.]

Some people may not feel good about "squishing" pennies, like it's destroying coins. I'd agree if these were rarities or mint state coins... but they aren't. "Steelies" and shell case pennies are very common in circulated grades. In fact, most wheat cents are. I'd advise anyone to get familiar with the Red Book before squishing pennies... you wouldn't want to squish a rare variety and potentially deprive the world of a treasure (or yourself of a small fortune). (I carefully checked my 1969-S pennies before squishing XB-70 Valkyries into them...) But think about all the boxes, jars, or jugs of wheat pennies you might have, some of which are pretty scuffed, dinged, worn down, burned, or green, that once you've filled a few Whitman folders with the better ones, you're left with a bunch of "problem pennies". They aren't desirable, but you can't bring yourself to get rid of "because they're wheat pennies". Why not turn them into some cool elongated cent souvenirs? You actually WANT darker brown ones because it makes the image show up better... and unnaturally-toned or oddly-discolored coins can make for some beautiful elongates. Trying to match the imprint with a cent of a date that is significant to the design adds a new layer of fun to it, and makes for an even more interesting collectible.

My next "squishin' mission" is to find a beater of a 1903 Indian cent where the date is still clear, because another image choice at the Museum is the Wright Flyer, which flew that year!