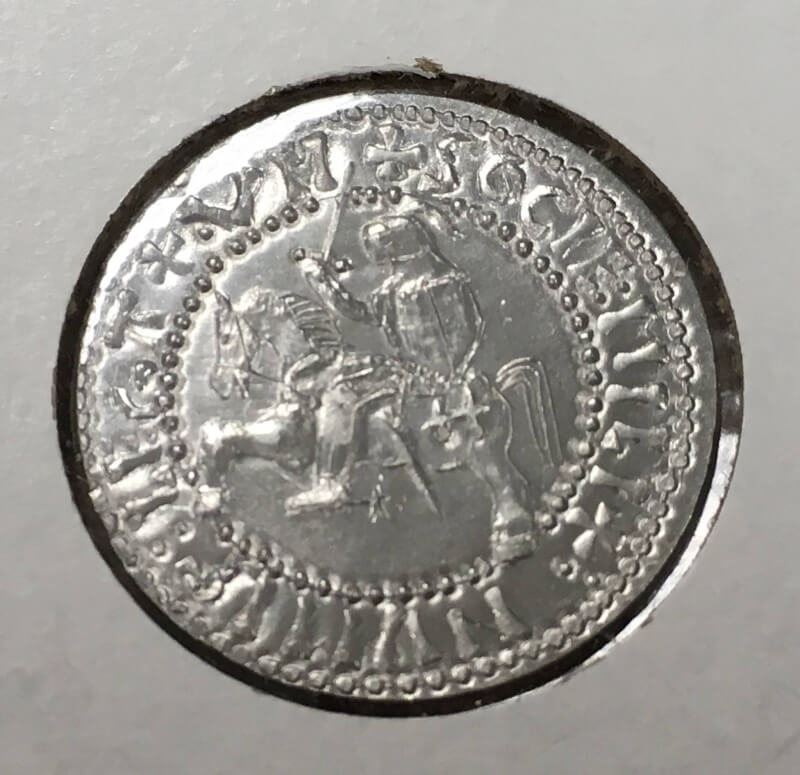 First Ever Coins of the LKNS Numismatic Knights Revealed!
For those who have been reading my blog series on The Making Of A Medieval Style Club Coin and waiting for Part V: Making The Coins, so you could see what the coins actually look like... The coins have been made! The Legacy Knights Numismatic Society met with the moneyer on Monday, November 26th. He brought with him all the coins he had made for us, plus everyone attending the meeting got the chance to hammer several coins in aluminum for themselves!
I was going to wait to show them to you until I had Part V of the series written. However, life sure seems to have gotten busy in the aftermath. There's a lot to tell and I want to tell it right. So I am not waiting any longer to show you the coins. Our moneyer, Mr. Carson Engle, did a great job in creating a medieval looking coin that bears elements from across the time period. He also did a great job in educating our club on the art of hammering coins and the life of a medieval moneyer.
One thing I learned, and I may expand upon in Part V, is that it is apparent that if you want fully struck, detailed, centered hammered coins, it takes practice, practice, practice! The results Mr. Engle achieved in the batch he provided us yielded a significantly higher percentage of well-struck coins than any our members struck for themselves! Even skilled moneyers don't get them all perfect... but then again, they didn't 1,000 years ago either, so this is historically accurate! If you want fully struck, perfectly centered coins 99.9% of the time, maybe you'd better stick to modern ones.
Here are some samples from Mr. Engle's work, in aluminum, copper, and sterling silver. I've also included an image of the ones I received from striking some for myself at the meeting, which are typical of what the student members were able to do. Only one has a great strike, and there's a story behind it! But that will wait for the official Part V.
Many thanks to Mr. Engle for working with us and doing such a great job not only on our coins but with his presentation. If you are interested in commissioning your own hammered coinage, he may be reached at twobearmint@gmail.com.