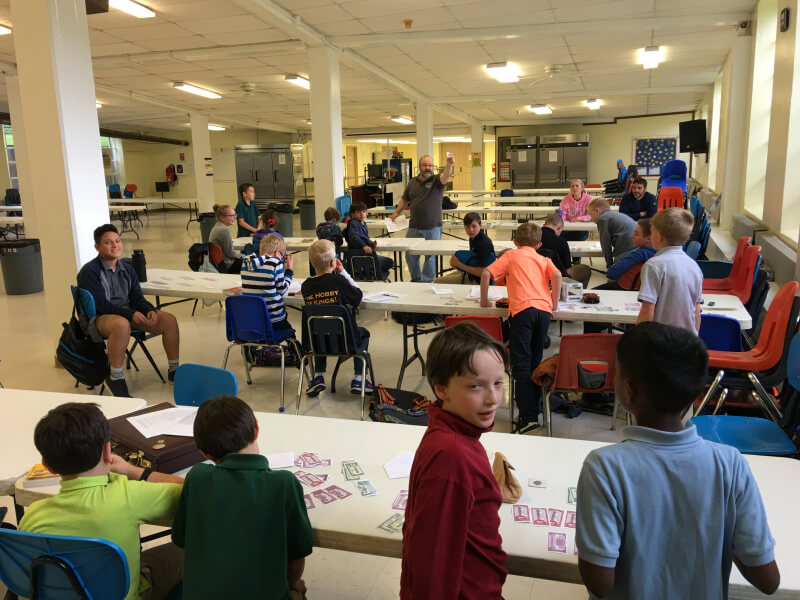 Kids and Numismatic Auctions
The 2019 LKNS Annual Student Members Only End Of Year Auction is in the books.
One of our youth members reports:  "It was fun to see people bid on things, and bidding on stuff myself.  It was fun looking through the auction sheet ahead of time and thinking about which things I might want to bid on.  Once you buy something you can research it and find out more about it.  It was a good experience!"
We end each year with an auction of fun and interesting numismatic items that have been donated throughout the year.  Thanks to the generosity of various donors and supporters of our club, we've received such items as bulk wheat pennies and foreign coins, Columbian Exposition commemoratives, foreign paper money, obsolete-denomination US coins, books, proof sets, slabbed NGC-graded coins, and more.  Holding an auction and bidding with our Knights Payment Certificates (KPC, earned by youth members through participation throughout the year) solves problems like not having enough of an item to give one to each member, or making sure the items go to those members most interested in them.  Everybody gets a chance to bid on what they like.  The more they participate throughout the year, the better chance they have of winning the auctioned items they really want.  A wide selection of items usually ensures there's something for everyone to bid on and win.
We also give the student members the chance to earn some last minute KPC by bringing in something of their own to auction.  This year we limited their contributions to two items.  We auctioned these items first, then the KPC spent on them went to the student who donated it.  The hottest item in the auction this year was a 1965 US Special Mint Set quarter dollar, graded and slabbed as MS-67 by NGC.  The winning bidder had a slight edge over his competition in earned KPC, but he ensured his success by donating an item of his own to the auction, which went for a nice sum of KPC.
We did compile an auction item list and distributed it to the students a few days in advance, so they would have a chance to review it, research items, and plan their bidding strategy accordingly.
Because one donor had assembled gifts of coins for every student member in the club, everyone went home with something.  Most, if not all, also went home with something they won through bidding.
Next week is Awards Chapel at school... then the 2018-2019 year for LKNS will conclude, and preparations for 2019-2020 can begin!