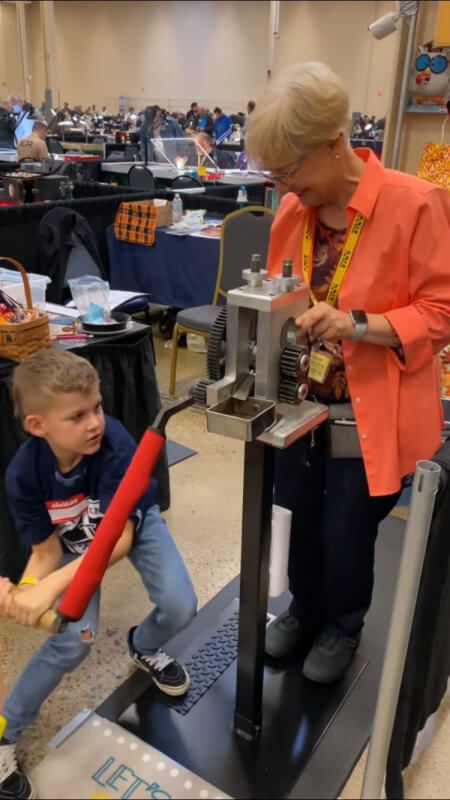 LKNS Attends the 2021 Fall PAN Show
On Saturday, October 30, 2021, the Legacy Knights Numismatic Society traveled to the 2021 Fall PAN Show for their first big field trip as a club.  The PAN Show (operated by the Pennsylvania Association of Numismatists, or PAN) was held at the Monroeville Convention Center in the suburbs of Pittsburgh.
LKNS took part in the PANKidZone activities especially geared towards young collectors.  The PANKidZone is an effort headed up by Mr. Malcolm Johnson to generate interest and enthusiasm among young people for numismatics and help them in their pursuit of their collection and knowledge.
Due to unfortunate circumstances Mr. Johnson was unable to meet us there; however he made sure we were in capable hands with the rest of the friendly folks on the PAN committee.  Our members were the recipients of a generous collection of numismatic items, from t-shirts to cent collection folders to coins, literature, and more.  A couple of famous guests even helped us enjoy the show in the forms of Benjamin Franklin and Abraham Lincoln.
The show itself was wonderful with a wide array of dealers attending.  We saw ancient coins, paper currency, lots of old and rare American coins, tokens, elongates, medals, and collector supplies.  Several of our members went home with new purchases to add to their collections.  The dealers seemed as happy to see us as the friendly PAN Show staff, and all were very helpful.  Several took the time to explain the significance of some of their displays or items for sale.  Their hospitality made an impression on our members, who felt they were treated like valued members of the numismatic community.
The YN auction at the end of the day was a big hit with our students of course.  They had acquired some PANKidZone auction money through their participation in both the show and our club.  Bidding was often fast and furious and some of the bids reached some rather incredible heights before a sole bidder remained and won the lot.
LKNS is an extracurricular activity of Legacy Christian Academy in Xenia, OH, which is about four hours away from Pittsburgh.  While some members opted to travel with their parents and spend the night in the Pittsburgh area, the main body of members rode together in vans and made the trip all in one day.  That made for a long day, but traveling with friends made the time pass quickly, and getting to attend the PAN Show was well worth the trip!
Many thanks go to PAN, Mr. Malcolm Johnson, Mr. Pat McBride, and others who made sure we were able to attend and had an incredible field trip!
To see more photos, please visit the PAN Show 2021 photo album on the LKNS Facebook page.