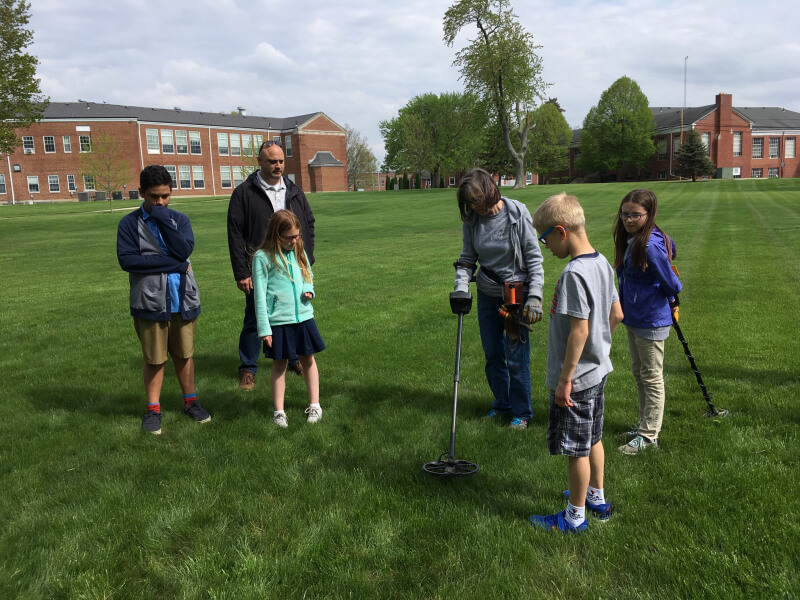 Metal Detecting Event A Big Success
The April meeting of the Legacy Knights Numismatic Society hosted metal detecting experts from the Dayton Diggers metal detecting club.  There is an obvious connection between numismatics and metal detecting, because in between the soda can pull tabs and bits of wire many lost coins can be found.  
I made contact with the Dayton Diggers through one of their members who is also a member of another local coin club to which I belong, the Miami Valley Coin Club.  He in turn introduced me to our guest speaker,  Mr. Tony Mantia.  We made arrangements for him to come see us for our April meeting, and he brought a few other "Diggers" with him.

Mr. Mantia also brought with him a display of coins that had been found through metal detecting, which included an early American coin from the late 1790s, half cents, large cents, two- and three-cent coins, half dimes, twenty-cent coins, etc., a veritable type set of American coinage.  Depending on the soil conditions, coins found in the ground aren't always as bad off as you might expect; but of course it doesn't do them much good.  Rare coins still carry financial value, but often a found coin's worth is found in the historical evidence it provides or the thrill of discovery.
Our members got to experience this thrill for themselves as we went out into the schoolyard and did some detecting.  Lost change was found, both new and old, along with a lost wristwatch, a spent modern bullet, and an assortment of scrap metal and junk.  Perhaps the most intriguing find was a Waterbury & Scovill button from the 1800s.  It was not a military button, but it was in excellent condition.  Our school occupies buildings and grounds that used to be part of the Ohio Soldiers and Sailors Orphanage, for orphans of Civil War veterans.  The button could have fallen from the hand-me-down clothing of one of the orphan children who used to live on the property; or perhaps it came off the shirt or jacket of a farmer who would work the ground before it was sold to become the orphanage.
This is something I appreciated about the Mr. Mantia's presentation:  he emphasized that "buried treasure" isn't always found in the form of coins or gold and silver hoards; it is often in the form of the history that can be discovered using the dug artifacts you find.


This was one of the most enjoyable and exciting hands-on learning experiences our youth club has had.  Students were having fun, and so were their parents.  If you are looking for a numismatic related activity to involve youth, try holding a metal detecting event.  See if there are any detecting clubs in your area and ask for assistance.