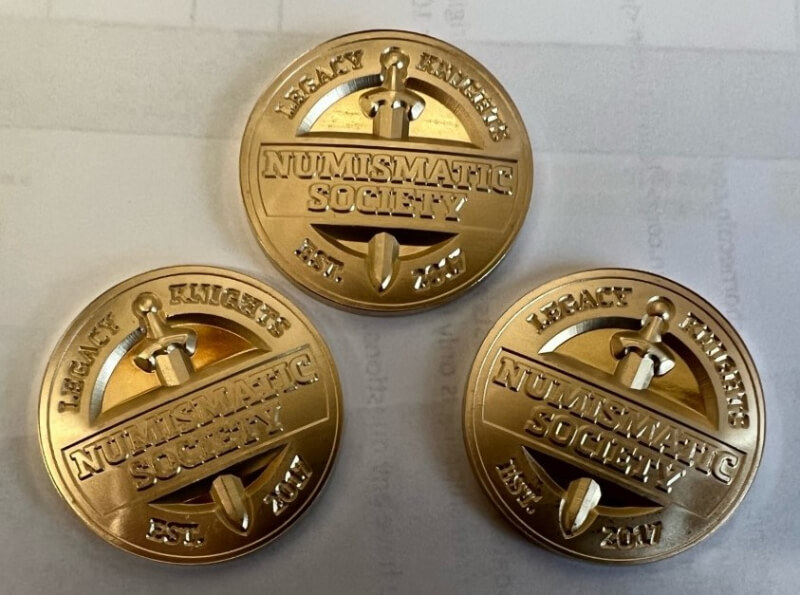 It's been a while since I last blogged about LKNS, but that doesn't mean we haven't been up to anything.  Quite the contrary.  We've been working on an exciting new project.

In September 2022, LKNS took a tour of the Osborne Mint in Cincinnati, Ohio.  Osborne Coinage Company has been around in one form or another ever since 1835.  It has changed names, owners, and addresses over the years, but it has always been in Cincinnati and is the oldest still-operating private mint in America.  Their heritage includes presidential campaign medals for Abraham Lincoln, Ulysses S Grant, and Franklin D Roosevelt, among others.  They made store cards for businesses around the Civil War era, as well as company store tokens for coal mines and other businesses.  In the Second World War, they made all the familiar little red and blue ration point tokens and shipped them out by the boxcar load (in fact, they have a complete set of 24 blue and 30 red tokens on display in their facility).

Every year LKNS awards Membership medals to our newest members who have applied for membership, paid their dues, and attended at least three LKNS events.  Last year we realized we were running out of medals and would not have enough to go around at the end of this year.  We needed to mint more medals.  Since we had this relationship with Osborne Mint, why not have them strike our next batch?  After all, if they were good enough for Abe Lincoln, they ought to be good enough for LKNS!

We sent them our logo artwork and made a few suggestions as to how it might look rendered in three dimensions.  They produced test strikes seen in the accompanying photo.  As you can see, the results were outstanding!  This 39mm design rendered in Goldine brass has a slight dome to the obverse.  The relief has a satin frosted finish while the field remains bright and reflective.  The reverse (not shown) is a near-mirror image of the obverse.  This was done to achieve higher relief on the obverse.  Those familiar with the minting process know that this is a lot of metal to push around, so this design helps with that.  The finished product will have the Osborne mint mark on the reverse.  Our medal will be produced in two styles:  the first with an integrated loop at the top of the design to accommodate a jump ring connected to a ribbon drape; the second without the loop and ribbon drape.  The first will be issued to our new members who have earned the Membership Medal.  Our returning members this year will receive one of the non-looped versions, as a memento of being a member during this significant year in LKNS history.

Our tour of Osborne Mint was fantastic, and our hosts were most generous and accommodating.  Perhaps I'll write more about our tour along with more of the story behind our medals in another blog post.