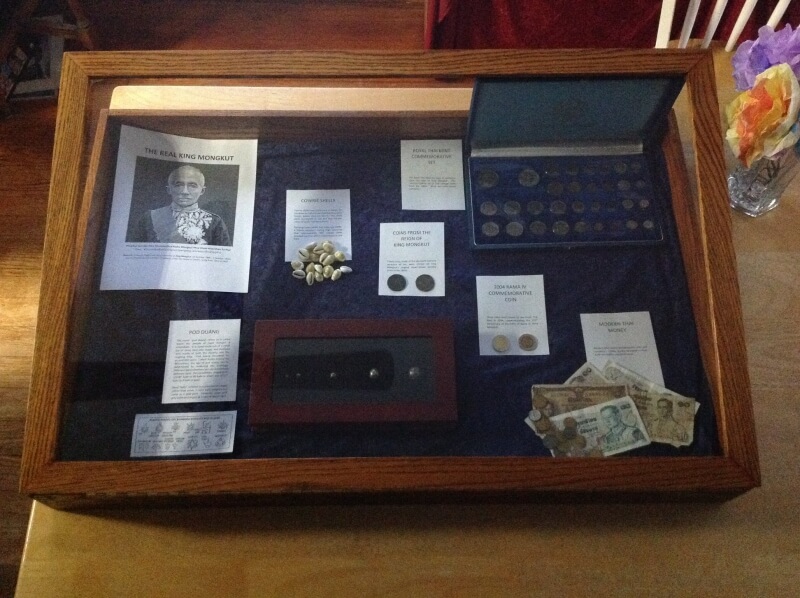 National Coin Week just so happens to coincide with our club's school's annual musical. This year the musical is "The King and I". Legacy Christian Academy in Xenia, Ohio, really does have a phenomenal drama department for a small Christian school. They are located on the old campus of the Ohio Soldiers and Sailors Orphanage, established over 100 years ago to care for the orphans and dependents of Ohio's Civil War veterans. it then became the Ohio Veterans Childrens Home, serving the same purpose for the children all Ohio's military veterans of any conflict. The campus had dormitories, a working farm, its own power station, a gym, a chapel, school buildings, and a full-blown theater. The school buildings, gym, and theater now comprise Legacy Christian Academy. The theater's amenities allow for some great productions. It's 80 years old, but they have the rigging to haul backdrops, scenery, and props up and down, perform special effects like snow and flying scenes, etc. So this is no slouch of a school theater, and the work the director and students put into the productions each year are worthy of such a facility. Learn more at http://www.legacyknights.org/fine-arts/playsmusicals.cfm.

During each musical, the Art Department hosts a student art show in the chambers below the auditorium. The patrons come downstairs to see the art and buy refreshments during intermission. This year they shall be treated to a display by the Legacy Knights Numismatic Society. We decided to put together a display box featuring numismatic items from Siam during the era depicted in the musical. It's a fascinating history: Mongkut was king of Siam in an era of Western colonialism. He was friendly with the West but he did not wish his nation to be colonized by them. Siam was rich in natural resources which the world powers wanted. Mongkut decided to embark upon a series of national modernizations that put Siam on equal footing with the rest of the world, instead of being seen as barbarians... yet he walked a fine line between modernization and tradition, culture, and heritage. Mongkut relaxed trade restrictions with the outside world. This change deeply cut into his government's revenues from tariffs and taxation; but the loss was more than recovered as his nation's private wealth grew. The Siamese economy grew so fast, that they soon experienced a shortage of hard currency. They had been using pod duang, "worm money" named so because the Siamese thought it resembled a curled up worm. To the Western world, these silver pieces resembled musket balls, so Westerners nicknamed it "bullet money", a name which has stuck to this day. Pod duang was tediously made by hand, and could not be made fast enough to keep up with demand anymore. So King Mongkut ordered a steam-driven minting machine to make coins. However, these were made to order and took a long time to make. He received a hand-cranked minting press as a gift from Queen Victoria to get started making coins while waiting for his steam-driven press. It too was too slow to meet demand, but at least they were started. Once the steam-driven press arrived, they finally were able to meet demand... And that was the beginning of the modern-day Royal Thai Mint.

I find it particularly interesting that, once the taxes on trade were removed and the people were allowed to conduct their own business, that the economy grew so fast that more money had to be made to accomodate all the subsequent commerce... perhaps a lesson for modern nations. In some cases, good government helps best by getting out of the way. In Mongkut's case, his modernizations and free trade ended up saving his country from colonization by the West. In fact, Siam was the only country in South East Asia that wasn't colonized; they maintained both their independence and much of their cultural identity. This is probably a better impression of the King of Siam than you would get solely from watching the musical.

Pictured is my first attempt at a numismatic display case. I had the case handmade years ago for another purpose, but wasn't using it right now, so I picked that for LKNS's first display. This display was entirely my work as the club coordinator this time; I really hadn't had time to explain to the kids how numismatists like to put together educational displays to display at coin shows and conventions. But I'm hoping this first example will interest them, and help them understand that with a little interest, thought, research, planning, and creativity, a nice display is not that hard; and that numismatics really can be a part of other activities that you might not think it could be... things like musicals.

I would encourage you to look for ways in your local school to create numismatic interest by tying numismatics in with another activity of the school. Perhaps your school mascot is an animal that you might find featured on different world coins, or maybe your school is named after an historic figure that you would find on coins. (I'm talking to YOU, Lincoln Middle School! haha.) With a little thought and creativity you can find many ways to tie in numismatics to your school or with other activities... and a display will draw people in to check it out.

Don't forget to check us out at www.facebook.com/KnightsNumismatics ... Please like our page and pass it along to anyone else who might be interested in seeing how we conduct a school-based youth numismatic club.