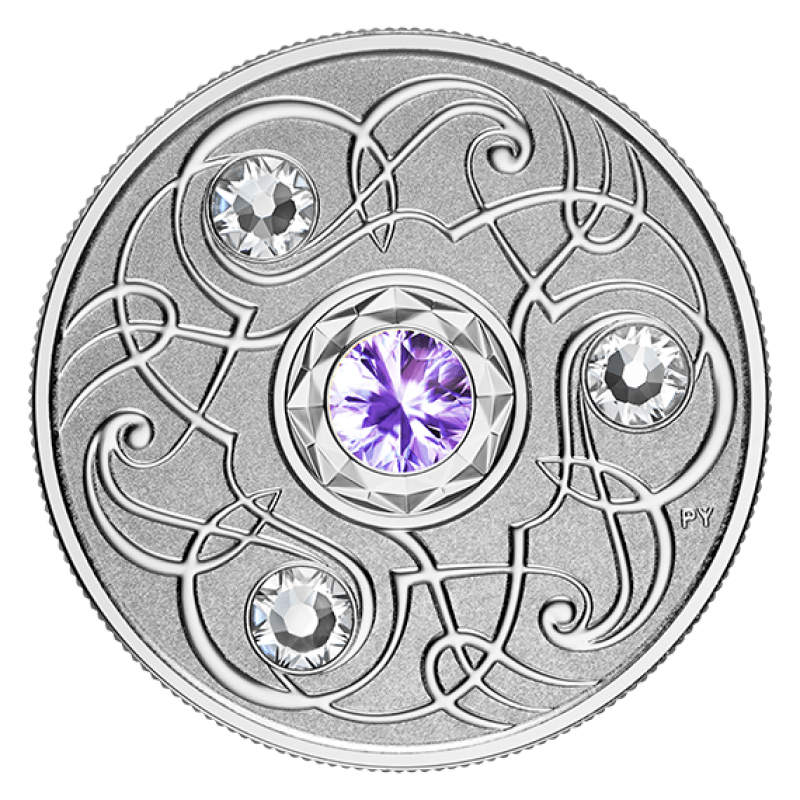 Foo-Foo Coin, Hey it was "PURDY"!!!
Today is my Spousal Unit's birthday, and Methuselah finally has competition!  Lol, my awesome wife has never been a jewelry gal, nor is she a "keep up the Jones" kind of gal.  Neither of us are big Gold folks, let me tell you, shopping for her can be daunting to say the least.  Enter one legged man stage right, he likes things that are different, pocket book won't support "One of a Kind" things, but unusual or different is just right!  I was perusing the Canadian Mint Site out of boredom more than anything else and it jumped off the computer screen at me….2020 December Birthstone, mintage 5000, 99.9% Silver, Reverse Proof finish, weight; 7.96 g, diameter; 27mm, edge; serrated, Face Value; 5 Dollars, Serialized Certificate, with a Free Floating Frame, (extra), well worth it. 
The official Canadian Mint Propaganda reads "Reverse design by artist Pandora Young is an intersection of art and mathematics, and features a stylized pattern arranged according to the base-six-system.  Inspired by the Celtic triskele, the engraved art incorporates three clear Swarovski crystals into our birthstone, celebration of those born in December (tanzanite), as represented by the gem-like Swarovski crystal at the center of the coin.  The Obverse features the effigy of Her Majesty Queen Elizabeth II by Susanna Blunt.  All inspired by the Celtic triskele!  Tanzanite was discovered in the late 1960s.  It is named after Tanzania, the country where it is found.  It is one of three acknowledged official birthstones for the month of December.
Well, I don't give a rip what the official description was, it was PURDY!  Plus it had the Queen on the Obverse, (My wife loves her), Birthstone on reverse, a silver coin, limited number and was unusual.  Just the ticket…I was looking for the final gift for my Lady.  I always get her a bunch of stuff for her Birthday, after all it's her special day!
This makes the second time this year I have had to eat my words about foo-foo specialty coins.  Hey, remember, it is PURDY!!
Anywho, my special gal loved it, and that is what a Birthday gift is all about.  Thanks for allowing me to share this special coin, for a special Lady.  Nuff Said!
Various photos of coin, Free Floating stand, His Heinousness' obligatory coin inspection & stock photo.