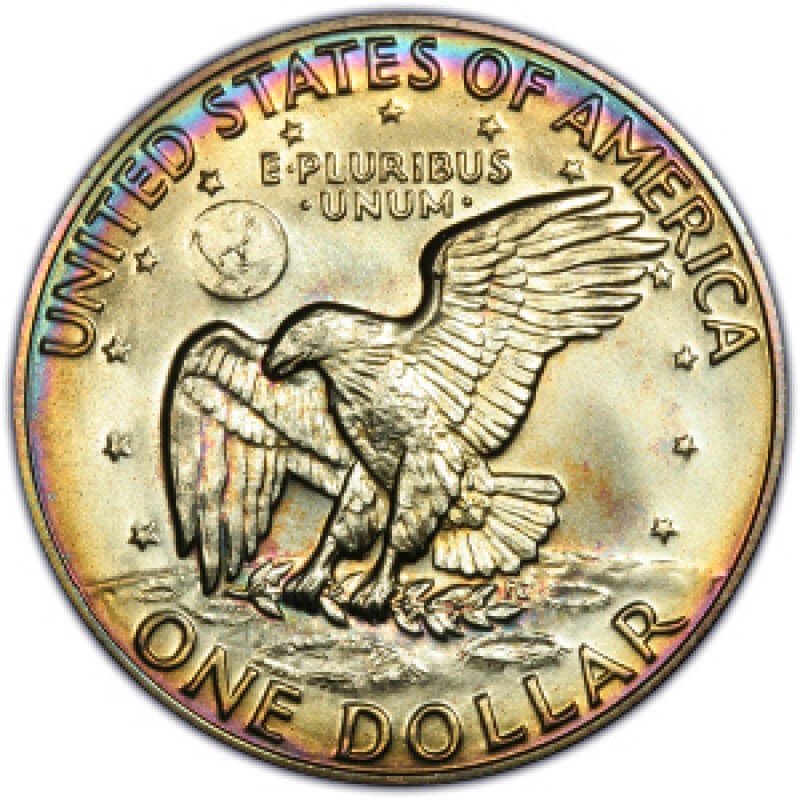 Hello fellow collectors!
Today my blog is going to be about Eisenhower dollars, so sit back and enjoy!
In 1970, Congress passed legislation that authorized a new $1  coin to commemorate the death of General Dwight David Eisenhower and man's first landing on the moon (which was on July 20, 1969). This coin was designed by Frank Gasparro. The obverse  of the Ike dollar features the bust of Eisenhower (hence the name of the coin) facing left  while the reverse features a resemblance of the insignia of the Apollo 11 mission, the only difference between the coins design and the Apollo 11 insignia is that the coins design is missing the name of the mission. A new design was made to celebrate the Bicentennial of the signing of the Declaration of Independence, the date was changed to add the year "1776" making the date on the front of the coin "1776-1976" and the reverse was redesigned by Frank Gasparro and Dennis R. Williams to feature the Liberty Bell in front of the moon. These coins were made from 1971-1978. The mint made special Uncirculated and Proof versions containing 40% silver that they sold at a premium to collectors.  The diameter of theses coins is 38.1 mm. 
I especially enjoy collecting these coins because of their large obsolete size and continual availability, by that I mean they are amazingly large compared to now-a-days coins and a person can still get  these coins from a bank every once and a while. I can back this up because I, personally, have asked for them at banks a couple times and have been able to accumulate over 20. 
I also like Eisenhower dollars because they are one of the coins that sparked my interest in coin collecting. Before the "Scam-demic", me and my bro had a paper route, the way it worked was that we would deliver the paper once a week for a month and at the end of the month, we would go around the neighborhood and try to collect the fees from as many people as we could (some wouldn't answer, weren't home, or didn't want the paper). Sometimes we were payed with checks, sometimes cash, and once in a while, coins. One day, someone payed us with an Ike dollar, neither of us had ever seen one before so we had our dad look it up, anyways, I ended up putting it away.
Thanks for reading this blog and have a great day!