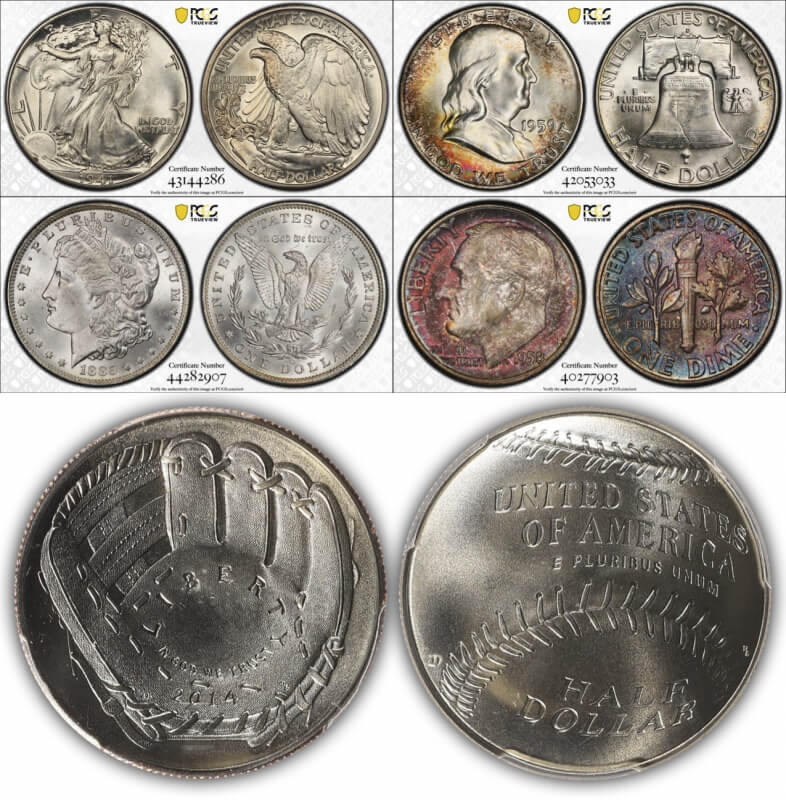 Morgan, Walking Liberty Half Dollar, a Curved Coin, and More! | Coin Update #55
Hello all and welcome to another blog!
Today I have several interesting purchases to share along with a few other things to talk about. 
Let's start out with the purchases. So, on Fathers day I picked out a couple of nice coins on Great Collections and bid on them. I actually got them all for really great prices. I am thinking this may be because of the fact that they ended on Fathers day and less people were around to bid on the lots. Anyways, I won 5 really cool coins. Three are upgrades of some of my other PCGS graded coins, one is an addition to my toned dime set, and the last one is just a fun coin that I thought would be interesting to own. 
First up is an MS-63 1941 walking liberty half dollar. This upgraded my MS-62 1942 walker quite nicely. It has a really cool looking reverse and a lot less problems than the coin it replaced. Next up, a really nice MS-63+ 1885-O Morgan dollar. This coin upgraded my MS-62 1884-O by quite a bit. It is blast white and has a lot less issues (and toning) than the coin it is replacing. Next up is a really cool nicely toned 1958 Roosie dime. I got this one for my toned dime set. It has some nice colors, including red, blue, and purple. The last coin is my first ever curved coin—a 2014-D baseball commemorative half dollar. Although I haven't gotten this coin in hand yet, I can't wait until I do. Hopefully I'll remember to add some pics of it in-hand in my next blog (which will most likely be fairly soon). 
Well, now that those are out of the way, how about I mention something exciting for us YNs. The 2022 YN auction is September 10th! I already registered, and if you are a YN and are planning on participating, you'll want to as well (otherwise you will not be able to win any lots). Although I don't have quite as many YN dollars as I did last year, I may be able to bump them up in the couple of months until the auction. I'm hoping they'll have the auction catalog out soon as I am very excited to find out what is being offered this year. 
Lastly, I was just going to mention that I have recently been trying to clean out my collection a little bit. Mainly by selling off a bunch of cheap slabs. I just sold off the last of my NGC slabs (I've decided to stick with PCGS from now on), but I still have 17 PCGS coins (that have either been upgraded, or that I just don't want/need anymore) that I'm working on getting sold. This way I can focus on better quality, older, and cooler (and/or more expensive) coins for my collection. Better coins are also definitely easier to sell—so that is also part of my reasoning.

Anyways, thanks for reading my blog, enjoy the pics (if I can get them attached this time), and have a splendid day!