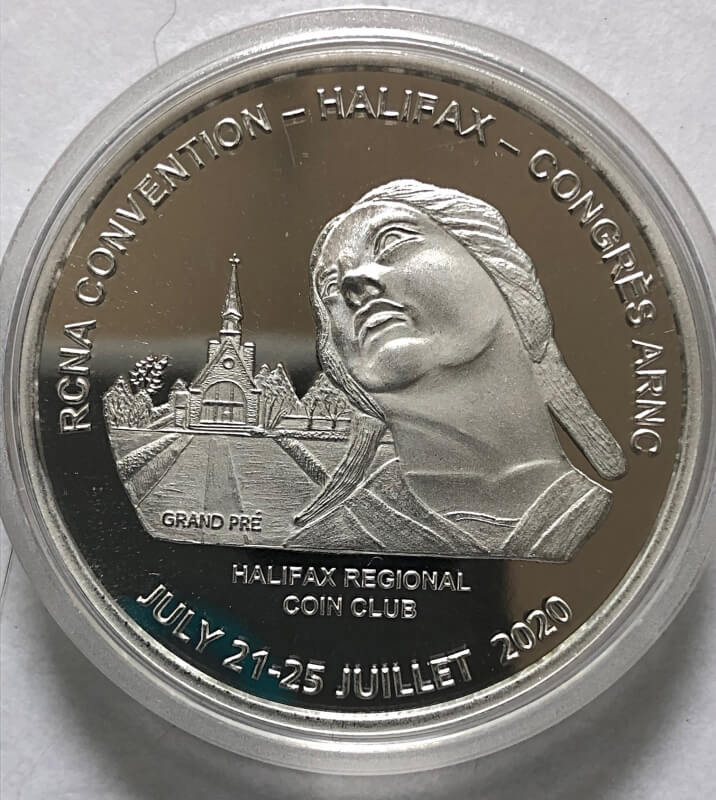 This spring and summer have been filled with endless disappointment for those of us in the Numismatic community.  Major shows have been cancelled and even our local coin clubs have shut down for extended periods.  I just received something in the mail that has put a smile on my old collector mug.  It is the 2020 Royal Canadian Numismatic Association (RCNA) convention medal.  Even though the annual RCNA show was also cancelled, just like our own ANA, they chose to go ahead and release their medal.
I had read about their decision in the RCNA Journal and had emailed the Secretary asking for one of the medals.  I was told they were sold out but that I would be sixth on the waiting list should one become available.  A month or so later, I received an email telling me one was available if I wanted to buy.  I DID!!!  So here is the story of this beautiful silver medal.  The obverse depicts the Grand-Pre Church, part of the Acadian Historic District in Halifax, Nova Scotia along with a portrait of Evangeline, the central character in Henry Wadsworth Longfellow's famous and tragic poem "Evangeline".  The reverse depicts the traditional Voyageur Canoe seen on the reverse of Canadian Dollars until the Loonies appeared. 
I have a strong desire to visit the Canadian Maritimes, including Nova Scotia once it is safe to do so.  I am very happy this beautiful medal fell into my lap.  If you want to read much more about Longfellow and Evangeline, please follow the link below.
https://www.hwlongfellow.org/works_evangeline.shtml