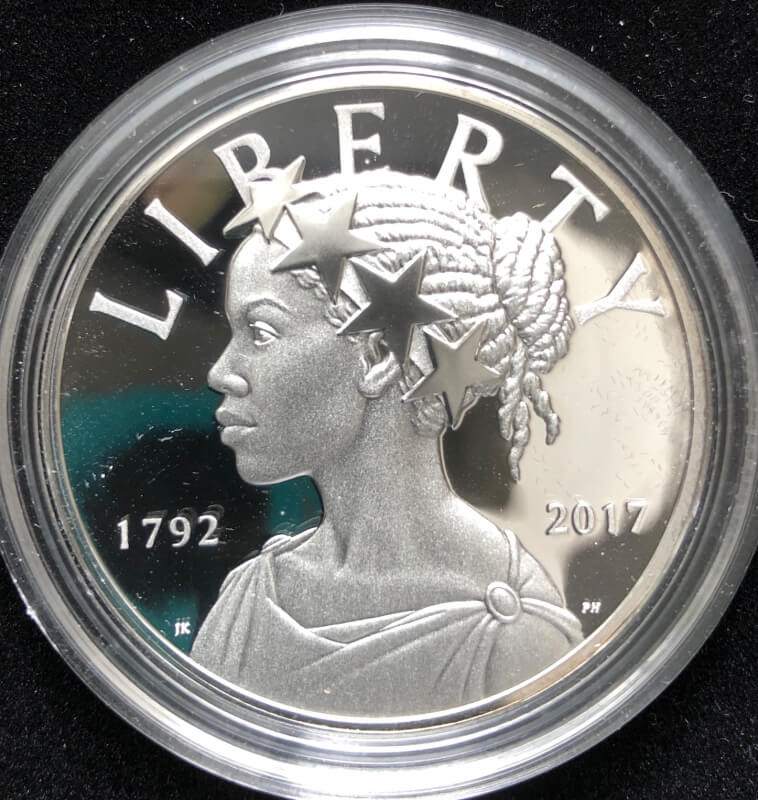 A Very Controversial Choice
2017 was a momentous year in the history of the United States Mint and once certainly deserving of special products.  One of the popular items was the 2017-S Enhanced Uncirculated Mint Set.  These enhanced finish coins were not double struck, like a proof, but were struck on carefully handled planchets that have a soft matte finish, very pleasing to the eye. 

But controversy arose with a special medal produced for the 225th Anniversary.  The medal was made in Gold with 1/10 and 1 Ounce versions from the West Point Mint.  The Mint also produced 5 different 1 ounce silver medals.  These five medals were a standard Proof from Philadelphia, a standard Proof from San Fransisco,  a reverse Proof from Philadelphia, an Uncirculated from Denver, and an Enhanced Uncirculated from West Point.  The last 4 of these were issued together as a set.  That's why we have both a Philadelphia and a San Fransisco Proof.  The Obverse of each medal depicted an allegorical Liberty and the reverse depicted an Eagle in flight, both designs having a modern flair.

Sounds good so far, a nice assortment of items for the 225th Anniversary but the controversy arose due to the choice of allegorical Liberty for the Gold and Silver issues.  Instead of using a European featured liberty (even on our Liberty Heads with Indian War Bonnets), the Mint chose a very modern looking and very African-American looking Liberty.  Personally, I found her very attractive and i bought all the Silver issues and one extra in a slab.  But reading message boards around the time of issuance, I could clearly see a very strong collector backlash against the Mint's choice for their Liberty.  Some people said she looked just like Michelle Obama (and they were not pleased)  some just said it was ugly without really explaining their reasoning although the subtext was often barely concealed. 

Due to the Mints controversial choice of Liberty, I suspect sales may have suffered but I am very happy with my purchase and I hope the Mint is thinking outside the box for our upcoming 250th Anniversary.   The beautiful obverse was designed by Justin Kunz with the Mints Sculptor/Engraver Phebe Hemphill bringing it to life.  The exquisite reverse with its soaring Eagle was designed by Chris Costello with Sculptor/Engraver Michael Gaudioso.