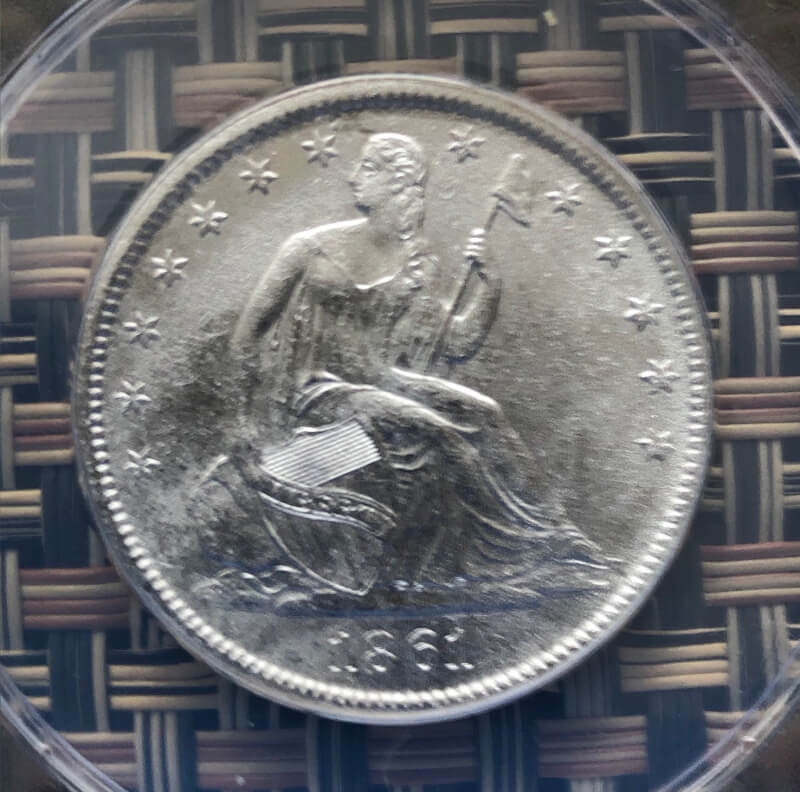 The Allure of Sunken Treasure
There are thousands upon thousands of Ships that have sunk in the Ocean.  Sometimes their sinking is due to conflict, sometimes a purposeful scuttling, sometimes a rogue wave, and sometimes, maybe most times, a stormy sea captures her prize.  I have three coins in my collection that were wrested from the briny deep and they are among my favorites because of the circumstance of their recovery and the associated history.
The S.S. Republic was a paddlewheel steamship lost in a storm off the coast of Georgia in 1865 while sailing from New York to New Orleans.  Her cargo had Gold and Silver coins destined for banks in New Orleans, still recovering from the aftermath of the civil war.  The wreck was found in 2003 and well over 50,000 coins were recovered from a depth of about 1,700 feet.    One of those coins is my 1861-O half dollar. I was lucky in that my half showed the die marriage associated with mintage under Confederate authorities.  One of my favorite coins and a spectacularly historical shipwreck.
The El Cazador was a Spanish Galleon sailing from Veracruz, Mexico, to New Orleans, Louisiana, with a load of silver coins.  She went down in 1784 just south of New Orleans in only 300 feet of water.  She was found in 1993 when a fishing trawler named The Mistake, belying her name, dragged up some debris, containing coins, in her nets.  One of these coins is my 1786 Charles III 8 Reales from an unknown, but probably, Mexico City mint.  This 8 Reales has two gouges on its right side that are smooth enough to have been done to the coin after she left the mint.   Maybe an expert on colonial Spanish coins might have an answer to that mystery.
The Reijgersdahl was a Dutch East India Trading Ship which sank off the coast of Cape Town, South Africa in 1747.  She was on her way from a Dutch port to the East Indies at the time of her loss.  Perhaps her cargo of Pillar Dollars (8 Reales) would have eventually been used in the China trade, one can only speculate.  Her treasure of several thousand Pillar Dollars were recovered in 1979.  One of these recovered coins is my 1737 Pillar Dollar from the Mexico City Mint. 
I hope you enjoyed this journey through history, Numismatics never fails when you want to travel back in time..