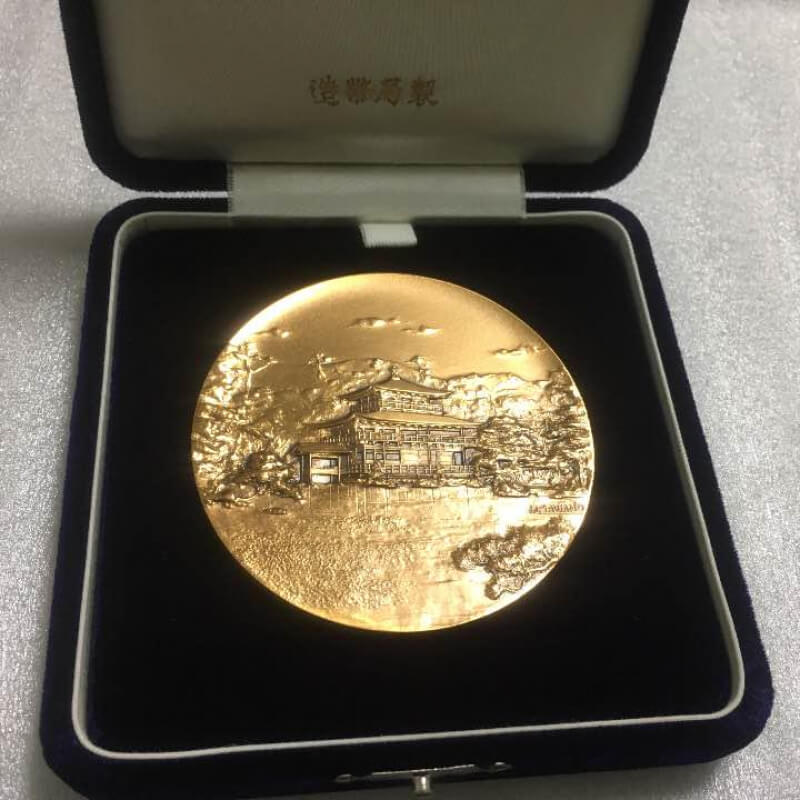 When I visited Japan back in 1976, I picked up this beautiful medal in Kyoto Japan. The medal depicts the Golden Pavilion on the obverse and the reverse is blank except for tiny Japanese characters in a box which read " Kinkaku-Ji", which is the name used by the Japanese for the Golden Pavilion. The Medal is signed by M. Sawano, possibly Mizue Sawano, but I am not sure. Mizue is a Japanese female artist well known for her paintings.

Per Wikipedia:
It is one of the most popular buildings in Japan, attracting a large number of visitors annually. It is designated as a National Special Historic Site, a National Special Landscape and is one of 17 locations making up the
Historic Monuments of Ancient Kyoto
which are
World Heritage Sites
."
The Temple is covered in Gold Leaf and is truly a spectacular sight. If you make your way to Kyoto, you must visit the Golden Pavilion.
My medal is approximately 2.75" in diameter and is a treasured representation of my Mother's Japanese heritage.

Regards,
Malcolm