Teaching kids about money the way they learn best: by doing and playing.
Through fun activities, interactive exhibits and FREE classes
,
children can pick up basic and advanced concepts — from how to make change to understanding monetary systems. The exhibits teach children about history, geography, trade, art, world cultures and more.
Admission

Free for children 12 and under. When kids participate in a KidsZone class, their parents are allowed to view and explore the Money Museum exhibits for free!)
10:30 a.m. to 12 p.m., ages 4-7
1:30 p.m. to 3 p.m., ages 8-12

To Enroll

Call (719) 482-9846 or register online with the form below.
Questions? Contact Sam Gelberd, numismatic educator, at sgelberd@money.org or call (719) 632-2646.

Location

818 N. Cascade Avenue
Colorado Springs, CO 80903
On the Colorado College campus, adjacent to the Fine Arts Center
PARKING
Parking is available in the lot on the north side of the Money Museum building.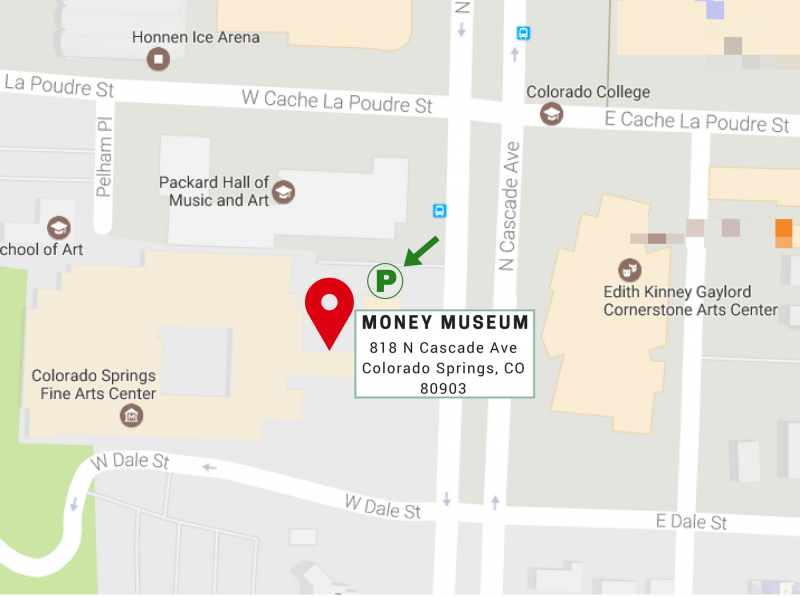 2020 KidsZone Schedule
Jan 18: Coin Collecting Basics
Do you want to learn how to be a great coin collector? This class will teach you some important, basic information about how to become a numismatist. You'll also learn about the different parts of a coin, as well as how coins are made.
Feb 15: Coins from Around the World
Most countries around the world mint their own coins, and many of them look nothing like ours; shaped like triangles or squares, and even coins that have holes in them. You will see examples of coins, both old and new, from countries all around the world – and then you'll design your own!
March 21: Hail Caesar!
Julius Caesar 'died' almost exactly 2,046 years ago. We'll celebrate the greatness of the Roman Empire by conducting a mock archaeological dig, using actual copper coins from before AD500.
April 18: Penny Sorting Party
Did you know you can find real treasures in your own pocket change? Learn how to unlock this potential by searching through bank-wrapped rolls of circulated US cents. Become a "coin hunter" and know how to decide which coins are collectible or not.
May 16: Exploring Paper Money
Join us for an up-close look at how "paper" money is made and used, reviewing many designs and security features. You'll then get to design your own banknote using scratch art cards!
June 20: Money Museum Tour
Today we'll take you on an in-depth, guided tour of the Money Museum's three main galleries. We'll explore our, "Money of Empire: Elizabeth to Elizabeth" exhibit, followed by a demonstration of how coins are made in our own Mini-Mint.
Because we don't like to keep our attendees waiting, all Kids Zone activities will start promptly at

10:30 a.m. and 1:30 p.m.

Please try to be on time. Thank you.